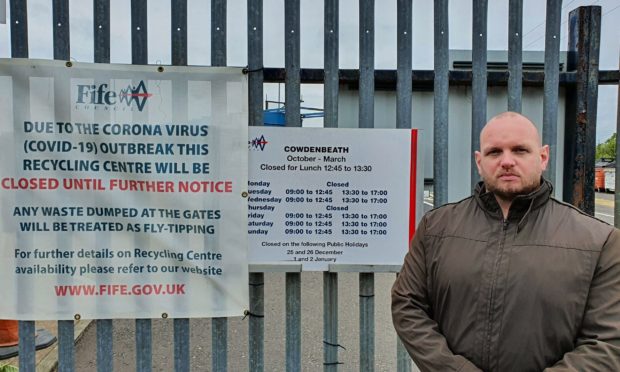 Cowdenbeath's household waste recycling centre is due to reopen next week after a lengthy closure due to Covid-19 restrictions.
The move will mean all 11 of Fife's recycling centres will be open and operating for the first time since the beginning of the pandemic in March.
From next Tuesday, Cowdenbeath will be open on Tuesdays, Fridays and Saturdays, while Lochgelly recycling centre will be open on Mondays, Wednesdays, Thursdays and Sundays to make it as easy as possible for locals to visit a local centre.
Cowdenbeath has taken longest to reopen due to the challenges of putitng in place measures to allow social distancing and safe traffic management.
As with other Fife sites, a booking system will be in place.
Bookings are now being taken for Tuesday, November 24, and the following six days at www.fife.gov.uk/recyclingcentres.
Robin Baird, chief operating officer at Fife Resource Solutions (FRS), the arms-length body which runs the centres for Fife Council, said: "We thank Fife residents for their patience and understanding. We're delighted that all of our sites will soon be open.
"It's thanks to most people sticking to the restrictions that we've been able to continue our staged and measured approach to the re-opening of sites, whilst ensuring the safety of staff and users.
"We will continue to review sites and how they are working to make them even more accessible and visitor-friendly."
Councillor Ross Vettraino, convener of Fife Council's environment and protective services committee, added: "As always, the council has put safety first.
"Due to the magnitude of the challenges with which the council is faced, it is remarkable that the council has managed to re-open all of its recycling centres and this is testimony to the effort that is being made by staff to enable the continuation of so many essential services."
Fife Council's bulky waste collection service is available and anyone who wishes to recycle glass bottles and jars, paper and cardboard, plastics and cans can do so at any of the hundreds of recycling points throughout the kingdom.