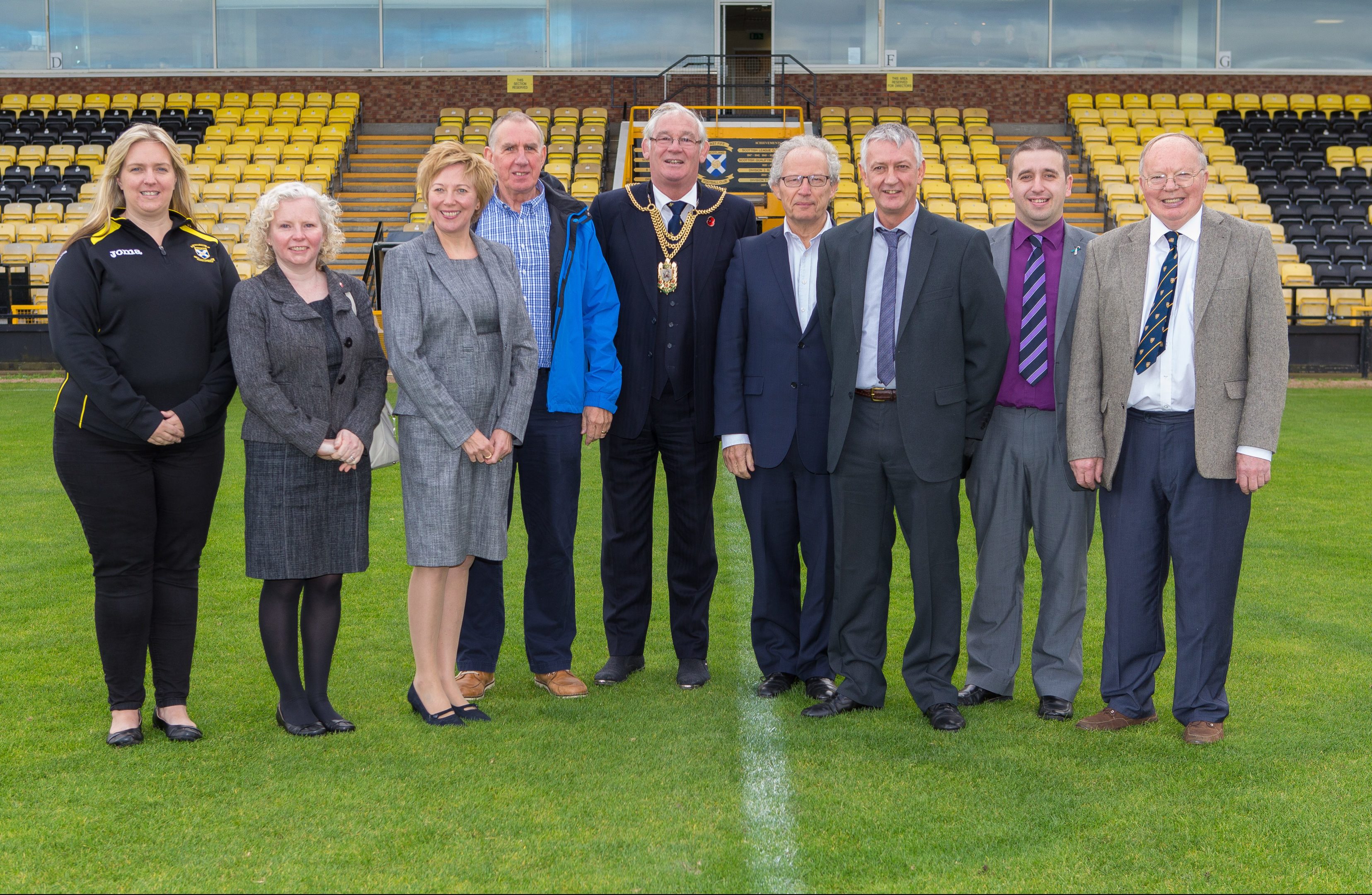 A new artificial pitch at the home of East Fife Football Club will help to transform lives in Levenmouth, it has been claimed.
Fife Council has awarded the Fifers for the Community charity £350,000 to help install a state-of-the art 3G surface at Bayview Stadium that will allow the ground to be used seven days a week for a range of sporting, social and educational activities – instead of once a fortnight purely for football.
The Courier understands that the existing grass pitch is due to be torn up at the end of the season in May, and the new astroturf will be installed over a six to eight-week period in the summer.
And once up and running, the charity will, in conjunction with East Fife, manage pitch rentals and other facilities within the stadium such as meeting rooms and bar/kitchen facilities.
With former First Minister and ex-East Fife player Henry McLeish as president, the trustees say they are committed to working with community groups, sporting clubs, schools, colleges, charities, Fife Council, interfaith communities, health boards and local businesses to ensure the people of Levenmouth are given opportunities to develop themselves and their community.
"One of the reasons why this community project is so important is that we have fallen on harder times in this area," Mr McLeish explained.
"It is quite clear that there are problems – social, economic, physical – but nevertheless this has always been a strong and vibrant community that is always looking for a way to help itself and go forward.
"We're not suggesting for a minute that we can take over, and do the work that has been done by excellent groups in this community.
"But what we can do is rekindle the focus of community interest within this club that reaches out.
"Yes, it's about a football pitch, but it's much more than that.
"This is part of a bigger ambition which we can all support.
"My plea is to the people of Levenmouth, often long-suffering, not just in terms of football but in terms of life, in terms of opportunites, jobs, welfare, a whole host of things that any community needs.
"We're actually saying to them today 'Come and join us'. We want to join you, and if we do that then this part of Fife will thrive and it will be a better place to live in."
The directors of East Fife have agreed to lease the facilities at Bayview to the charity trustees for 30 years, although of course they will retain control for all SFA/SPFL match requirements.
It is believed that the relationship between East Fife and Fifers for the Community is unique in Scotland, although similar projects exist in England. For example, Fleetwood Town have a similar set-up.
But those behind the project reckon the launch of the charity and the commitment from the club to support its aims will combine to make the Levenmouth area a place of choice to live, work and grow.
Charity representative Allan Duthie commented: "Every effort will be made to ensure that every individual, social group and sporting group has the opportunity to be involved with, or be supported by, the charity.
"For a long time Levenmouth has been one of the more deprived areas in Fife and in fact in Scotland, but Fifers for the Community is confident that, with the correct level of support, this facility will help improve levels of health, fitness, education and self-esteem.
"Our intention is to turn Bayview into a facility which is truly the hub of the community."