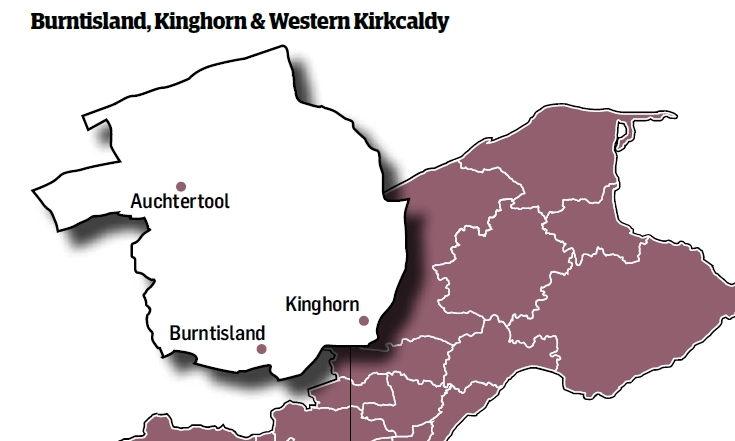 The loss of key local services has hit both Burntisland and Kinghorn in
recent months.
Burntisland has lost its post office, with the closure of the High Street branch following a robbery at the start of the year.
The Post Office has pledged to find alternative premises from which to provide its services and residents will be eager for support from their new local councillors in holding it to its promise.
They will also be anxious to ensure that the new premises are suitable, accessible and offer acceptable opening hours.
Kinghorn has seen both its only bank and its library shut their doors. The latter is to be replaced by a group of volunteers – known as Kinghorn Library Renewed – but, again, political support will be welcomed to help ensure it begins its new chapter.
For western Kirkcaldy, regeneration has been the aim for many years.
The area is an entrance to the town but has been blighted with derelict
land.
Revival of one area by Morrisons supermarket is set to be mirrored on another opposite with the relocation of Lidl.
The former bus depot remains an eyesore, however, with plans for a hovercraft dock there having failed to take off.
The ward stretches north to the village of Auchtertool, where the prime focus over the next few years will be determining how community benefit from the nearby Clentrie windfarm should be best spent.
The village will receive not insignificant investment of £20,000 a year, to be distributed among local causes and projects.
---
Candidate profiles
The Courier invited each candidate to submit a short introduction to themselves and, if they wished, a video explaining why they deserve your vote.
Lesley Backhouse (SNP)
A community councillor in Burntisland for the last two years, Lesley looks forward to the opportunity to continue
her work in the ward.
She aims to prioritise three key areas of housing, social care and improved accessibility at train stations and beaches, to encourage additional tourism, business and jobs.
She volunteers for a Scottish breastfeeding charity and runs her own childminding business in Burntisland.
As a local councillor, she sees her job as listening to constituents and helping the community to achieve what it wants to see happening in this part of Fife.
Peter George (independent)
Peter was born and raised in Rossend Terrace in the Castle area of Burntisland,
and recalls his childhood up the Castle as one of adventure and fun.
After school, he did a five-year apprenticeship as a welder. After the shipyard, he spent some years with Babcock and Wilcox and also worked in Rosyth Dockyard.
It was in this period he was approached to stand for the old Burntisland Council in 1970. Peter served four years then regionalisation took over.
After a few years in Australia, he returned to Burntisland and served on Burntisland Community Council.
He was elected to Fife Council in 2012.
Gordon Langlands (Labour)
Gordon was born, brought up and educated in Burntisland and
Kirkcaldy, before graduating from Heriot-Watt University.
He worked in electronics and has lived in Burntisland for 27 years. Being fortunate enough to retire early, he is committed to giving something back to the
community.
Gordon has been a member of Burntisland Community Council for more than four years.
As secretary, he has run its website and Facebook page and been involved in the Burntisland Community Action Plan, the exiles' reception, Remembrance Sunday
and the play park project.
Kathleen Leslie (Conservative)
Having grown up in Fife and spending much of her childhood in Kinghorn,
Kathleen is excited to have been selected as the candidate for her party in
the upcoming elections.
For the past 16 years she has been a teacher, both in Fife and abroad.
She began her career teaching history and, more recently, moved into additional support needs provision, which she describes as a very rewarding experience.
She is a community councillor so, she says, fully understands the importance of local democracy and empowering local communities.
She enjoys swimming, running and walking along the coastal path.
Susan Leslie (Lib Dem)
Susan Leslie has been a councillor in Burntisland, Kinghorn, Auchtertool, and Western Kirkcaldy for the last 10 years.
She has supported countless individuals, families and community groups to get access to services, deal with their issues, and improve their communities.
She has more than 30 years' experience in education as a teacher and headteacher and is now training new teachers at Dundee University.
She is also a trustee and ambassador of several charities.
Susan was born and raised in Kirkcaldy, living there almost all of her life, and wants to continue to represent all parts of this diverse ward.
Roy Mackie (independent)
Roy is happily married with three grown-up children and two grandchildren.
He has stayed in Kinghorn for 58 years and served as a member of the Royal Burgh of Kinghorn Community Council for four years.
He has worked for 44 years – mainly in heavy engineering – but feels that the time is right to get more involved in what is going on in his community.
As an independent candidate, he believes he will not be tied to party politics and will be free to truly represent his own views and the views of constituents.
Stuart MacPhail (SNP)
Stuart has served as a councillor for Kirkcaldy Central for five years.
He was an English teacher at Lochgelly High School.
He believes this election is all about local democracy, local jobs, local services and local people.
He said: "Education, health and social care and housing must be our top priorities.
"We must provide real training opportunities for our young people.
"The hopes and ambitions of local people must be paramount. This should be a listening exercise.
"Council must reflect local communities and place them at the heart of the decision-making process."
Bill Mair (Solidarity)
Bill has lived for 26 years in Kinghorn and Burntisland, where his daughter Sarah was born and brought up, and worked for Fife Council for 19 years.
He has been involved in countless anti-poverty and anti-racism campaigns, protests and picket lines in Fife and beyond.
He is standing for Solidarity, which he calls the socialist alternative to mainstream parties, as he believes it is the only party offering concrete proposals to reverse all cuts and create new jobs.
Other parties, he says, want to cut in one place to spend in another. He vows to put the working-class and disadvantaged before party politics.
Scott Rutherford (Green)
Scott says he is all too aware of how a lack of political will and cuts in
funding can fail the most vulnerable people.
He said: "I'm standing for the Scottish Greens because I want to represent a voice neglected within Fife Council, a bolder, fresher voice that puts a radical
approach at the heart of local government.
"If elected, I intend to be a councillor for everyone, delivering the dignity that our elderly people deserve, improving the teacher-pupil ratio in our schools and building new, affordable housing that can give people the chance to own their own homes and get on in life."
Fiona Sword (Labour)
Mother-of-three school-aged children, Fiona Sword has lived locally
her whole life, growing up in Kirkcaldy then moving to Burntisland around 20
years ago.
She is a family support worker for a charity that helps to support families of disabled children in Fife and Edinburgh.
She has volunteered in the local community for many years and been a scout leader for seven years.
Fiona was drawn to stand in the local elections because she believes councils can be a force for change in communities.
She feels passionately that local services, such as schools, care homes, leisure
centres and housing, should be protected.