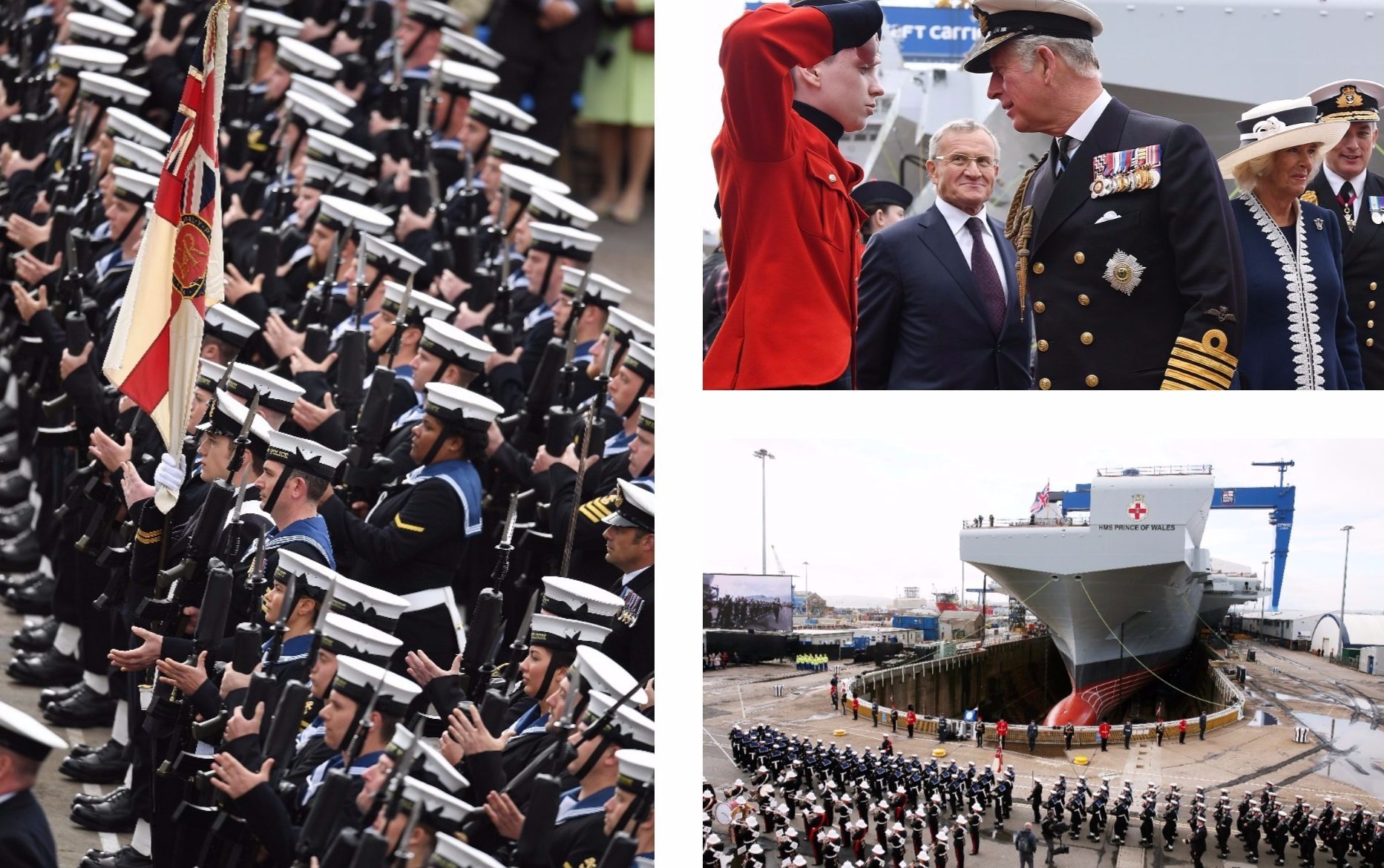 Thousands of people were in attendance as the Duke and Duchess of Rothesay gave a royal seal of approval to the nation's newest warship.
The official naming ceremony for the HMS Prince of Wales took place at the Royal Dockyard in Rosyth on Friday morning.
The huge vessel is the second in a new generation of Royal Navy aircraft carriers, and is due to commence sea trials in 2019.
A huge number of servicemen and servicewomen lined Rosyth Dockyard around the ship to welcome Prince Charles and Camilla for the ceremony.
Defence Secretary Sir Michael Fallon also attended the event.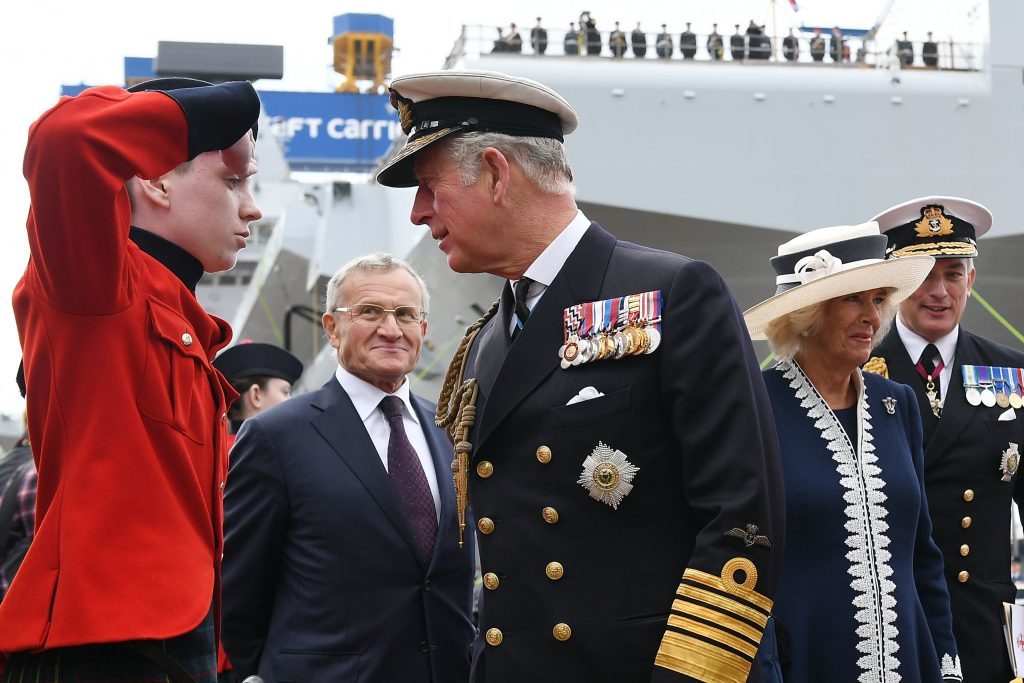 The UK's First Sea Lord and chief of naval staff, Admiral Sir Philip Jones, said it was "a moment of profound strategic significance for the UK".
In his speech he added: "The naming of HMS Queen Elizabeth was a strategic awakening for the United Kingdom.
"The moment when we proved to the world, and to ourselves, that we still have what it takes to be a great maritime industrial nation.
"Today, we return to Rosyth, to the cradle of modern British sea power, to dedicate HMS Prince of Wales.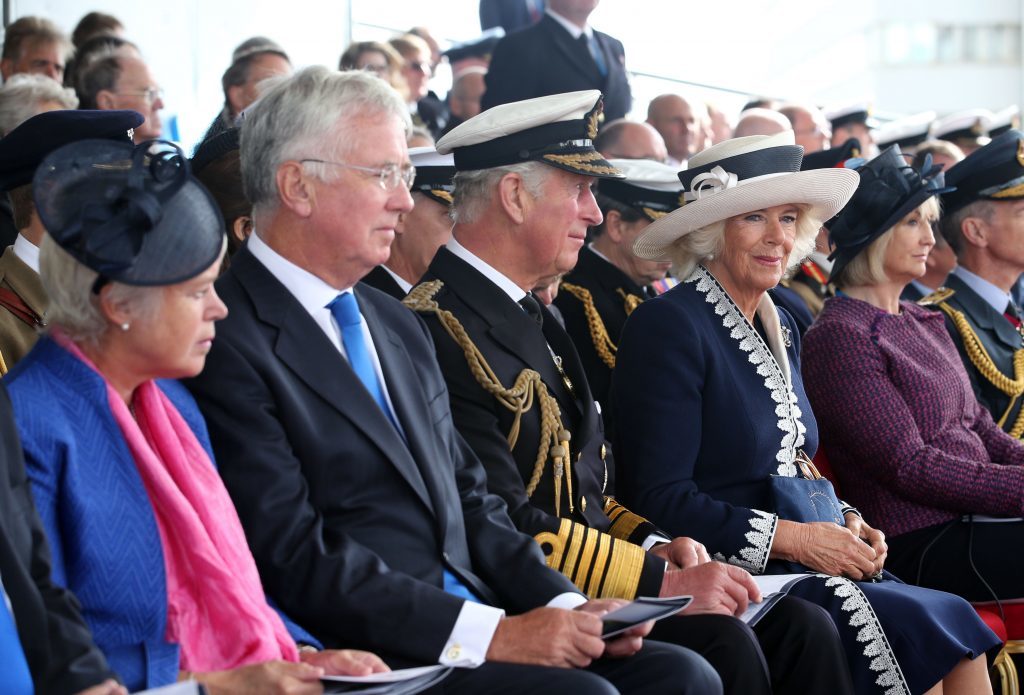 It comes after the vessel's sister ship, the £3.1 billion HMS Queen Elizabeth, carried out extensive sea trials after setting sale for the first time on June 26.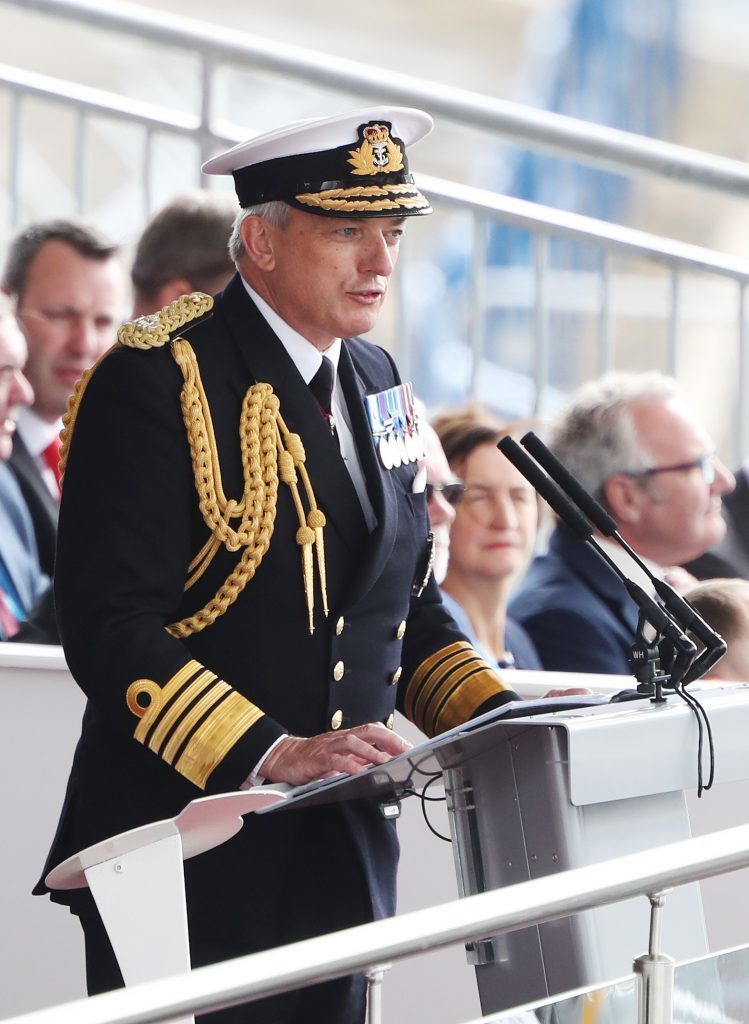 "We are honoured by the presence of Their Royal Highnesses the Prince of Wales and the Duchess of Cornwall; of course, as we are in Scotland, more appropriately the Duke and Duchess of Rothesay.
"We are also joined by representatives from across government, the armed forces, together with veterans and some of our vital international partners.
"This ceremony, and all that it represents, demonstrates the United Kingdom's determination to see through our strategic intent and to fulfil the promise of our maritime renaissance.
"For though she is the second of her class, HMS Prince of Wales has a strategic significance all of her own.
"If building one carrier is a statement of national ambition; then building two is an unmistakable sign of commitment, to our own defence and that of our allies."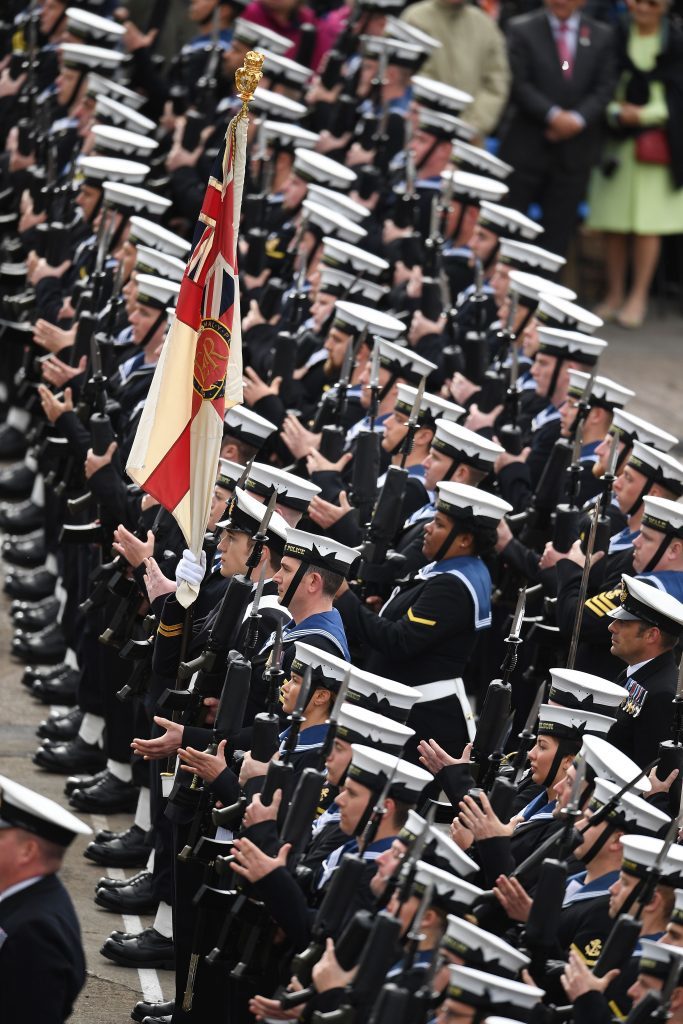 Morning all, I'm here at Rosyth dockyard for the naming ceremony for HMS Prince of Wales, the Royal Navy's second new aircraft carrier. pic.twitter.com/EmUD8lkyqn

— Jonathan Watson (@C_JWatson) September 8, 2017
But for now it's pipe bands and Highland dancing to keep the crowds entertained pic.twitter.com/wO8MrIFMqD

— Jonathan Watson (@C_JWatson) September 8, 2017
Conservative guess is there's about 2,000 people here. Lots of Navy brass, dockyard workers, ship's company and family #HmsPrinceofWales

— Jonathan Watson (@C_JWatson) September 8, 2017
I can reveal #HMSPrinceofWales will be christened with one of my favourite tipples: @Laphroaig 10. The ship has good taste in whiskey! pic.twitter.com/jxaBdVmKh3

— Jonathan Watson (@C_JWatson) September 8, 2017
Defence Secretary Michael Fallon has taken his seat in the stand opposite #hmsprinceofwales. Final moments before royal couple arrive pic.twitter.com/Et9coJ7IcL

— Jonathan Watson (@C_JWatson) September 8, 2017
Ship's company now taking up position beside #hmsprinceofwales. Very proud moment for them and their watching families pic.twitter.com/yEQJ9fBP4l

— Jonathan Watson (@C_JWatson) September 8, 2017
I know you cant see Charles and Camilla buy here's why they are now seated opposite #hmsprinceofwales pic.twitter.com/MFmsPuen1g

— Jonathan Watson (@C_JWatson) September 8, 2017
Flypast!! #hmsprinceofwales pic.twitter.com/fFBfqw8YZ4

— Jonathan Watson (@C_JWatson) September 8, 2017
Ship now being blessed. pic.twitter.com/OueAXrcvyd

— Jonathan Watson (@C_JWatson) September 8, 2017
Duchess of Rothesay, ship's sponsor, now speaking #hmsprinceofwales pic.twitter.com/8FY8ykl42H

— Jonathan Watson (@C_JWatson) September 8, 2017