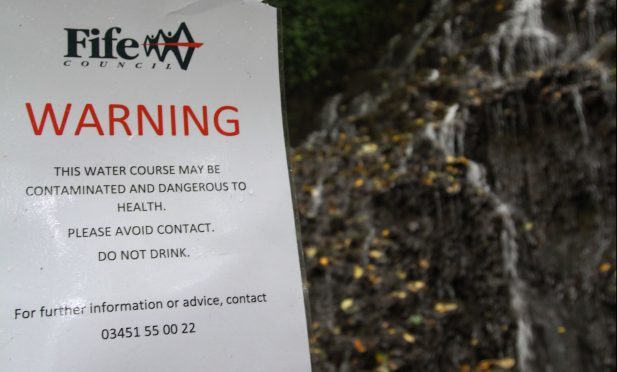 Contamination at a waterfall on the Fife Coastal Path near Burntisland is being investigated.
Walkers have described the pollution at Starley Burn as "absolutely stinking" and smelling "like ammonia".
The Scottish Environment Protection Agency (SEPA) said the contamination had been caused by "unauthorised discharge of organic matter."
Samples have been taken away for analysis and SEPA said it would not speculate on the exact nature of the contamination while the investigation was ongoing.
Locals suspect it may have been caused by run-off from nearby fields.
Fife Council has put up warning signs in the vicinity, urging dog walkers to keep their pets away from the water and not let them drink from the burn.
The signs carry a warning that the water "may be dangerous to health".
Walkers who regularly use that stretch of the coastal path took to Facebook to inform others about the hazard.
One said: "Passed it today, water's brown and stinks of ammonia."
Judith Moore, SEPA's unit manager in Fife, said: "SEPA takes reports of pollution very seriously and we always urge people to inform SEPA if they are concerned so we can take action to protect the environment."
Ms Moore said a member of the public had alerted the agency to the incident.
"Last week we received a call through our pollution hotline about a potential pollution in the Starley Burn in Fife," she said.
"Our officers confirmed that there was an unauthorised discharge of organic matter to the water and, as it is a popular area for dog walkers and there is a drinking fountain in the area, we alerted Fife Council so they could make the appropriate decisions and arrangements around public health signage.
"Investigations into the source and the events that led up to this pollution event are continuing, and once they are complete we will make decisions around any appropriate enforcement action.
"Officers have taken water samples which are being analysed and we will keep Fife Council informed of our findings."
Anyone with concerns about pollution is urged to contact SEPA's 24 hour report line on 0800 80 70 60.
Ms Moor added: "All contact can be treated as confidential. Getting details quickly will mean we can begin investigations much earlier and take effective action as necessary."