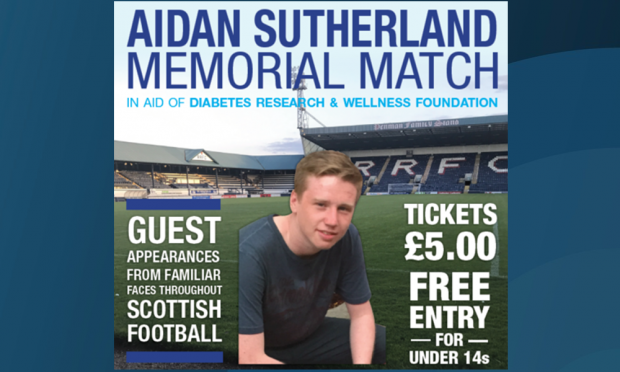 The life of a talented young footballer is to be celebrated at a charity match in Kirkcaldy this weekend.
Organisers say they are hopeful of raising awareness of diabetes after the condition claimed the life of 20-year-old Aidan Sutherland earlier this year.
Aidan, a Type 1 diabetic from the town, died just days after his birthday when he experienced a spike in his blood sugar levels.
In a bid to raise awareness of the illness, friends have rallied together to host the charity match between two local teams at the home of Aidan's beloved Raith Rovers on Sunday. Over 600 people have already confirmed their attendance.
His friend Ben Graham, an apprentice engineer, is one of those involved in the fundraiser and said a football match was the perfect way to mark his life.
He said: "Aidan's life revolved around football. When he wasn't playing football we would talk about it or be playing games like Fifa or Football Manager.
"He was a Raith Rovers fan so that is why we wanted to play the game at Stark's Park.
"We have had a lot of help and support, particularly from the club, and we are looking to sell 1,000 tickets. The support has been incredible."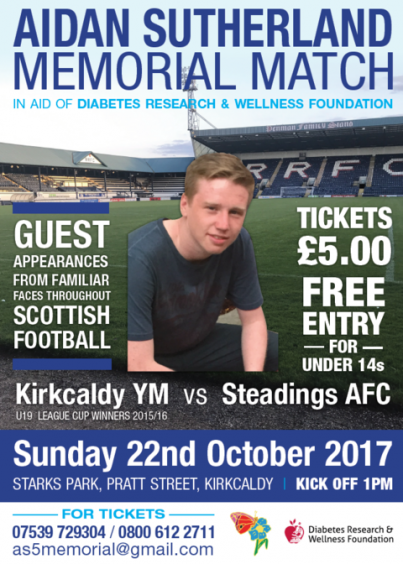 Aidan fell ill on a trip to Newcastle with friends, passing away on July 3. While he had previously experienced low blood sugar levels as a consequence of his diabetes, it is believed that this was the first instance of his sugar levels spiking.
Almost 400 people turned out for Aidan's funeral, with a collection raising £1,000 for Diabetes UK Scotland.
Aidan was an organ donor and his family have since learned that he helped to save the lives of four other people.
"There is hardly a person in Kirkcaldy who does not know what happened to Aidan," continued Ben.
"People turned out in huge numbers for his funeral and did their bit to help the family. We just want to raise awareness.
"If, by doing this, we save the life of one person then we will be happy."
Tickets for Sunday's match are available from the Novar Bar or O'Connells priced £5, with children admitted for free.
Kick-off is at 1pm with funds from the match being donated to the Diabetes Research and Wellness Foundation.
There is more information on Facebook.