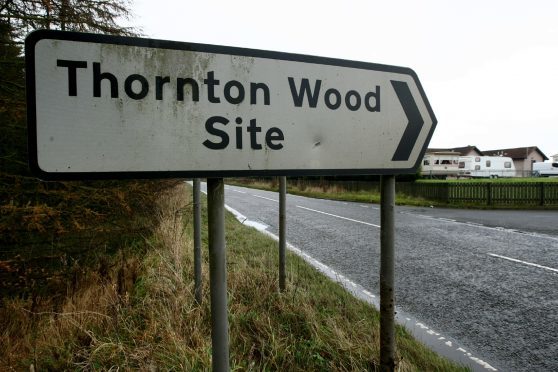 Fife Council plans to spend £2 million on upgrading its three gypsy traveller sites.
The local authority said poor housing conditions were leading to health problems and inequality.
It has transferred funding for the sites in Cupar, Kelty and Kirkcaldy to its ringfenced housing revenue account for rent payments.
Councillor Alice McGarry, who is on the community and housing services committee, said: "The facilities we have got at sites really aren't suitable for the 21st Century.
"Children are having to go outside at night in the freezing cold to use the toilet and that's not acceptable in this day and age."
Fife Council has three gypsy traveller sites, at Tarvit Mill in Cupar, Heatherywood in Kirkcaldy and Thornton Wood in Kelty.
The satisfaction level among gypsy travellers with the council as a landlord was rated at 29% compared to a local authority average of 79% across Scotland.
Committee chairwoman Judy Hamilton said: "Gypsy travellers have the worst housing conditions. They actually have a reduced life expectancy as well because of things like respiratory problems.
"This is asking us to move all of these sites from our general fund to the housing revenue account so we can carry out improvements to the sites, obviously in consultation with the gypsy travellers and other tenants."
Renting a pitch at one of the sites costs £61 a week, which is comparable in price to a one-bedroom council flat.
Service manager Greig Henderson said there had been a cultural shift in the travelling community and more families were choosing to stay in the same spot for longer.
"What they had before would have been very transient," he said.
"But some families are using it more as a permanent site, and we're trying to make it a better standard."
A report to the committee stated: "The council has been in discussion with the residents on the three sites regarding site improvements beyond the minimum standard required by the Scottish Government over the past few years and has completed a full site survey to ascertain both the nature of the works required and the associated costs.
"The survey outcome has identified that works in the region of £2m would be required to make the identified improvements to the sites, this included upgrading the sites, utility units, drainage etc.
"The council has maintained dialogue with the residents of the site and has identified a general fund capital budget of £800,000 for initial improvements but this will not enable all of the required works to be carried out."