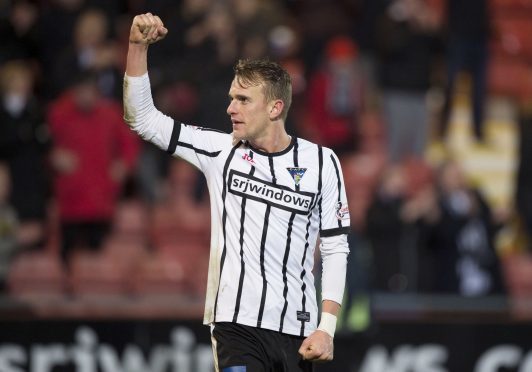 Dunfermline Athletic and Falkirk were absolutely right to condemn what happened to midfielder Dean Shiels last week, but some so-called football fans need to have a long hard look at themselves.
And I'm not just talking about the vile taunts and the throwing of fake eyeballs towards a young guy who has beaten the odds to pursue a career — a successful one at that — in professional football in spite of his handicap.
Shiels, 32, had an eye removed in 2006, yet has won 14 caps for his country and is a key part of the Dunfermline side challenging for a playoff spot in the Championship.
So why some Falkirk fans thought it was funny to buy fake eyeballs and sing songs about his visual impairment is beyond me.
Abhorrent, disgusting, unacceptable — all words used by people in the aftermath of January 2's fixture, and to be fair even those don't cut the mustard.
Falkirk rightly apologised and Dunfermline vowed to help root out the culprits using CCTV, and hopefully the last we'll hear about the issue is when the idiots are served with banning orders.
But all football fans know that it doesn't just stop there. We've all heard chants and abuse directed at players and managers from the terraces, but some people think it's wholly acceptable to behave anyway they want to — simply because they are in the cauldron-like atmosphere of a football ground.
With young kids going to games, particularly over the festive period, in my view a football ground should be the last place these thugs spout this sort of rubbish.
Pars fans have been subjected to people jovially singing about the tragic death of former captain Norrie McCathie in 1996 as a result of carbon monoxide poisoning for years, and Falkirk supporters were at it again on January 2. Clearly trying to upset a disabled footballer and his wider family wasn't enough.
However, I'm not singling out Falkirk fans. Most were appalled at the actions of a small minority of their faithful — and rightly so.
Sectarian chants still go on between Celtic and Rangers fans, and the vitriol spewed at some of the Old Firm games in particular is shameful.
Lower league clubs are not exempt either though, and we can all probably recount times when what was perhaps intended as banter has clearly crossed the line.
These kind of incidents need to be stamped out and, while the clubs usually take the flak, fans have to take responsibility for their own actions.
After the Shiels incident, I spoke to Dunfermline chairman Ross McArthur and he hit the nail right on the head when he said: "People seem to think they can go into a football ground and behave the way they want to, but you just can't.
"If you did that sort of thing in the High Street you would probably be arrested and charged. It's disgusting."
Properly punishing these imbeciles is the only way they might learn.