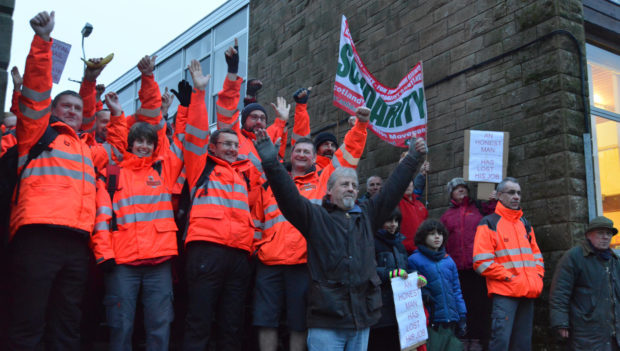 Fife posties are threatening strike action after a "scandalous" decision to dock their pay as the beast from the east hit.
According to union representatives, Royal Mail plans to deduct wages or holiday entitlement from delivery staff who failed to make it into work during the red severe weather alert, despite warnings from the Scottish Government and the police not to travel.
Those working in mail centres, which were closed for several days during the blizzards at the end of February, will be paid as normal.
Incensed members of the Communications Workers Union (CWU) representing Fife, Edinburgh, Falkirk and parts of the Borders voted on Friday to apply for a strike ballot, the first branch in the country to do so.
They have predicted the rest of Scotland will follow suit unless there is a change of heart from Royal Mail, which says it is following its adverse weather policy.
CWU rep Gary Haldane, from Dunfermline delivery office, said: "We as a union are not prepared to sit back and let Royal Mail treat us like this.
"All mail centres were shut from 6pm on Wednesday February 28 due to the risk but Royal Mail opened delivery offices knowing the police, local government and the Scottish Government were advising not to leave your house unless in an emergency, never mind the fact there was no mail in the offices."
Staff will be told about the possibility of industrial action during meetings with union reps before work on Monday morning.
"We're hoping all the other branches will apply for a ballot as well and hopefully it will put enough pressure on Royal Mail not to dock our wages," said Mr Haldane.
"They are not thinking of the health and safety of the workers and it's totally scandalous."
A Royal Mail spokesperson said the company had not had any official notice of any ballot for strike action.
"Royal Mail has a clear adverse weather policy for employees who are unable to get into work," they said.
"Employees should, in the first instance, speak to their line manager about any issues.
"All employees are able to use annual leave or make up the time lost.
"Employees can also, if they prefer, take unpaid time off if they are unable to attend work."
The spokesperson added: "If a site has been closed by the business or, because of disruption, there is not work to be processed or delivered employees would receive their normal pay."