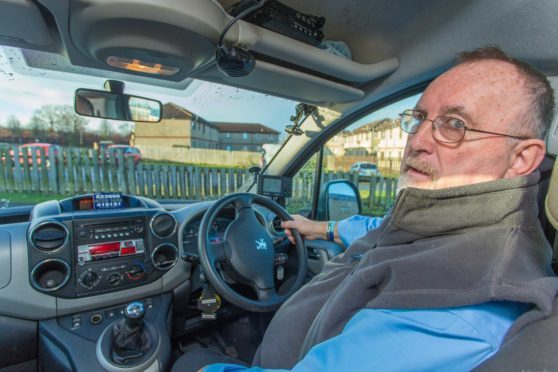 An increase in Fife taxi drivers being assaulted and defrauded is being probed by authorities, The Courier has learned.
Licensing officers in the region have launched an investigation after being approached by an unnamed taxi operator in central Fife who claiming there has been a recent rise in assaults on drivers and people making off without paying.
It is thought the problem is worse than it appears, with fears those affected are opting not to report crimes committed against them.
News of a spike in incidents has also led to calls for all taxi drivers to fit CCTV cameras to their cabs as a deterrent and some operators are now asking for money up front before making their journeys to avoid being short-changed.
The issue has been highlighted after an appeal from Fife Council's licensing team to all taxi drivers across the region to share their stories in a bid to find out how widespread the problem is.
Experienced taxi driver John Aitchison, who is chair of the West Fife Taxi Association, hopes the appeal will bear fruit.
"It's one of those problems that's hard to gauge because people don't always report it," he said.
"Sometimes guys are embarrassed that they've been turned over and don't report it, while some don't report it because the response has been so varied in the past.
"The other thing is, of course, that if it happens at one of the busiest times, like a Saturday night, going to the police station is effectively throwing good money after bad.
"It's happened to everybody at some time and the saying 'you can't tell a book by its cover' is very true.
"A lot of taxi drivers now will ask for money up front on longer runs, simply because of experience. A lot of people who do this sort of thing don't look as if they are going to be a problem.
"I know there are a lot of taxi drivers who ask for money beforehand – some folk don't like it, some folk think it is cheeky, but it's purely just a reaction to experience."
All of west Fife's taxis now have CCTV fitted in their cabs following a pilot project and Mr Aitchison said the move has been worthwhile.
"It's definitely got a deterrent value," he added.
Max Solaris from Glenrothes said he quit driving taxis after being assaulted, even though he reported the matter to police and it was dealt with by the courts.
He said: "I didn't feel safe enough in private hire without a safety screen to continue. I also had a few runners as well."
Kirkcaldy taxi owner Janice Allan added: "The doing a runner is getting worse."
Cowdenbeath taxi driver Martin Liszka called on all taxi drivers to make an effort to report instances of assault and fraud and "stand together".
"If word gets round that there is no consequence to effectively stealing from you then it's a free taxi ride home every day of the week," he noted.