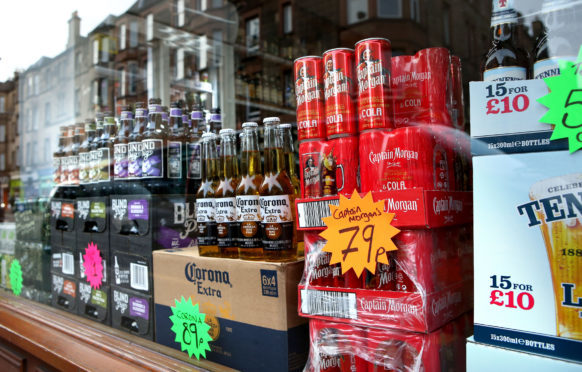 Areas of Fife are to come under close scrutiny amid fears overprovision of licensed premises is causing harm.
As part of a review of the region's licensing policy, Fife Licensing Board could opt to restrict or even ban the granting of new off-sales licences after a report highlighted clear evidence of a link between high levels of provision and high levels of alcohol-related harm and inequalities.
Councillors have agreed on localities they want to examine in relation to overprovision and assess whether saturation point has been reached, or is close to being reached.
Parts of St Andrews, Kirkcaldy, Levenmouth, Cowdenbeath, Lochgelly and Lumphinnans will all fall under the spotlight and the findings will be reported back to the board later this year.
In a shock move, councillors agreed that St Andrews Central should be included as part of the process, with Howe of Fife and Tay Coast Councillor David MacDiarmid suggesting the university town should be treated as a "special case".
"It is unlike any other locality in Fife because of the student population," he added.
Fellow ward councillor Donald Lothian sounded a word of caution, noting: "It's a very small locality with a huge influx of people every day and it's quite unique in the world in that respect, so I'm not quite sure where we would be heading."
Mr Lothian added tackling overprovision in certain areas would not necessarily improve people's health.
"All it would do is maintain the situation at that level – it won't actually improve things," he explained.
"We're fulfilling our role but I'm not sure it's a hit at all with regard to health.
"It might set the tone, but the bigger levers are operated by the Scottish Government."
June Barrie, depute clerk to the licensing board, admitted there was no "one size fits all" approach in Scotland but said a subsequent report will detail the number and capacity of licensed premises in each of the identified localities, information on licensed hours of premises and shelf space devoted to alcohol where applicable.
Consultation will then be carried out before any conclusions are reached.
The overprovision assessment comes in the wake of research done by the Fife Alcohol and Drug Partnership which revealed alcohol costs the region an estimated £130 million a year.
Around 71,000 adults across the kingdom are regularly drinking more than recommended limits every week, while there were 2,344 alcohol related hospital admissions and 666 alcohol-related A&E attendances – 10% of which involved children aged 15 or under – recorded in 2016/17.
The report also recommended restricting further off-sales licences in Cowdenbeath and Levenmouth specifically, where there is already "substantial evidence" of alcohol-related harm as well as the highest number of off-sales premises.