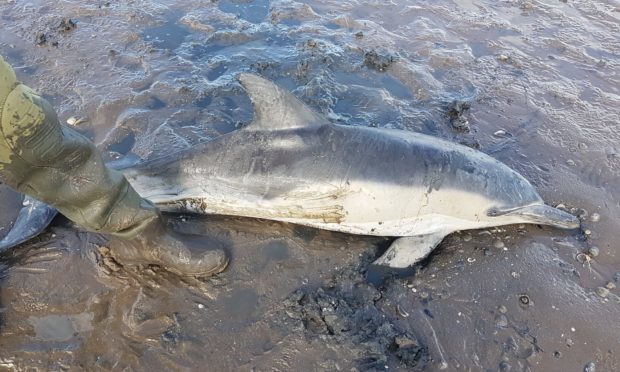 A young dolphin was rescued after beaching at St Andrews.
Dog walkers who spotted it on the West Sands alerted nearby St Andrews Aquarium.
They kept it wet and helped staff from the aquarium to return it to the water, aided by two police officers on horseback.
The dolphin, believed to be no more than two years old, was later seen swimming strongly in the Eden Estuary, with the tide coming in.
Andrew Whiston, of the aquarium, said: "The members of the public who reported it had already realised they needed to keep it wet and we went along to help.
"We dug holes to make its flippers more comfortable then sacrificed a jacket as a stretcher, rolled it on and carried it out to sea."
Andrew and colleague Danny Threapleton helped guide the mammal to the deep water channel and watched as it swam off, none the worse for its ordeal.
The aquarium advised people to keep dogs and children away if they see a stranded dolphin, porpoise or whale.
It also recommended they call the British Divers Marine Life Rescue organisation, or the aquarium if local.
If it can be done safely before help arrives, the aquarium also suggested keeping the animal wet with seawater, avoiding the blowhole.
Posting a photograph of the dolphin on its Facebook page, the aquarium said: "A very lucky young man just refloated by the aquarium keeping team off the West Sands.
"Many thanks to the two members of the public who called this in and helped out and to the two mounted police for watching over us."
The incident comes just days after a whale beached at Monifieth.