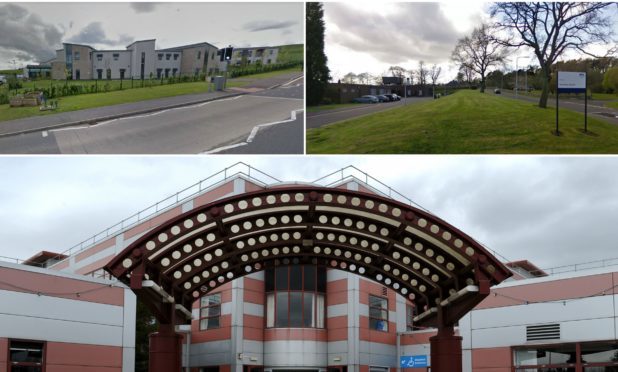 Temporary closure of out-of-hours services at three Fife hospitals have been roundly condemned, amid fears it could become permanent.
Health Secretary Shona Robison has been urged to intervene, while NHS Fife chair Tricia Marwick has been challenged to step up and save the services.
A staff shortage has prompted closure of primary care emergency services (PCES) at Queen Margaret, St Andrews and Glenrothes hospitals for three months from Monday.
Contingency measures put in place by Fife Health and Social Care Partnership will see patients referred to the Victoria Hospital in Kirkcaldy.
North East Fife MSP and Scottish Liberal Democrat leader Willie Rennie said the GP shortage was a nationwide problem which should never have been allowed to get to so serious.
He said: "The Scottish Government was repeatedly warned but failed to act in time.
"The Health Secretary needs to explain how she is going to assist Fife to get this service back up and running."
Mrs Marwick successfully campaigned against the closure of the out-of-hours service at Glenrothes Hospital in 2012.
Former NHS Fife board member Andrew Rodger said: "I would like to see Tricia Marwick step up and make sure this service continues.
"She fought very hard a few years ago to stop this happening at Glenrothes Hospital and now all of a sudden it's to go."
An NHS Fife spokesperson replied: "NHS Fife has made clear that this contingency should be temporary and that the FHSCP makes all efforts to both recruit and reinstate the service as quickly as possible."
Mid Fife and Glenrothes SNP MSP Jenny Gilruth said it was not acceptable and that history appeared to be repeating itself.
She said: "My constituents and I are not prepared to have Glenrothes out of hours service closed by stealth."
Lesley Laird, Kirkcaldy and Cowdenbeath MP, said: "While assurances have been given that the PCES overnight closures are a temporary measure, I'm not confident that this will be the case.
"I've written to Michael Kellet, director of the health and social care partnership, asking why agency staff could not have been employed to bridge this problem and keep services open."
Glenrothes' three Labour councillors voiced deep concerns that the temporary closure could become permanent.
Jan Wincott said: "The people of Glenrothes made their feelings abundantly clear five years ago that this was a vital and cherished service that had to be preserved. Nothing has changed in that respect."
Shirley-Anne Somerville, SNP MSP for Dunfermline and West Fife, said the move must be reversed as soon as possible.
She said: "I am seeking assurances from Fife health and social care partnership that plans are in place to increase staffing levels to the necessary levels in order to ensure that services are fully reinstated within the estimated three months, or earlier."
Mid Scotland and Fife Conservative MSP Murdo Fraser said: "The reduction in the out-of-hours footprint across Fife is concerning but not entirely surprising. Health boards across Scotland are struggling to find clinical staff to fulfil these roles and the Scottish Government has serious questions to answer over its lack of proper workforce planning."
Fife health and social care partnership said it was unable to cover all the overnight shifts and the contingency measures would ensure patient safety.
It said every effort was being made to resolve clinical staffing difficulties as quickly as possible.
Ms Robison said: "We expect Fife Health and Social Care Partnership to work within the resources available to meet patients' needs.
"By the end of this parliament we will provide extra investment of £500 million per year which will increase the total primary care budget to 11% by 2021/22.
"We want a high-quality out-of-hours service which fully meets patient needs and we have invested £20 million over the past two years to take forward the recommendations made in an independent review into out-of-hours care.
"We will also increase the number of GPs by at least 800 over the next 10 years which should help areas that are facing challenges with GP recruitment and retention."