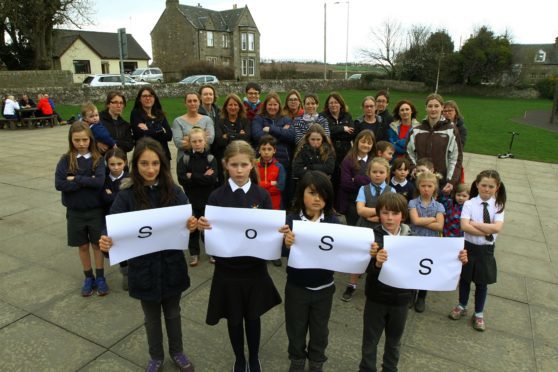 Parents have started a petition protesting about cuts to school staff who are "the glue keeping everything together".
More than 800 concerned Fifers have already signed up to Ceres Parent Council's petition in reaction to Fife Council plans.
The council has recently announced a proposal to restructure school administrative staff.
The petition states: "Faced with a squeeze on resources that mandates them to make £986,000 of savings in administration costs, they have plans to update the front line staffing budget and have recently announced a proposal to centralise some administrative tasks and downgrade the existing admin and clerical roles in 28 out of 42 primary schools and nurseries in the Waid, Bell Baxter and Madras clusters.
"Other schools throughout Fife are also affected."
Local parent and Parent Council member Fiona Eason said everyone is aware of the need to make savings, but parents are extremely concerned about the impact of the proposal across north east Fife schools and the education of their children.
"School administration staff, in many smaller schools, are the first port of contact for most families and provide support that in most cases goes well beyond the parameters of their job descriptions."
She said in her local school the experienced staff member was "the glue keeping everything together".
"We are concerned that the council has not recognised the impact that putting these staff at risk of their current jobs, or diminishing their value and working conditions, would have on our communities."
The concerned group didn't believe the proposal would serve the community and is asking Fife Council to reconsider.
"We are calling on Fife Council to reconsider their proposal at the consultation stage and look actively to make the proposed budget changes elsewhere to enable the affected Fife schools to retain the experience and continuity that our small schools have in their front line staff."
Head of education Shelagh McLean said the council was currently reviewing administrative support across all educational establishments where staff are employed in the posts of admin assistant or clerical officer and clerical assistant.
"Administrative support in primary schools is allocated based on the size of a school, so a school might have a clerical assistant or an admin assistant or both. This will continue."
But as the council looks to "improve efficiency and effectiveness" it is reviewing admin roles.
"This isn't about making savings in our primary schools and we don't anticipate any compulsory redundancies at this stage," she added.
Feedback from staff was being sought and no decision had already been taken, she added.