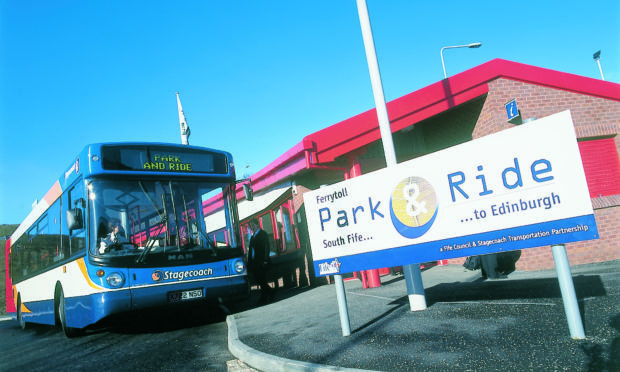 Controversial council plans to charge commuters to use Fife's park and ride sites have been given the go-ahead.
The proposal, which will mean a £1 a day charge at both the Ferrytoll and Halbeath centres, was approved by both the South and West Fife and Cowdenbeath area committees.
The scheme drew widespread criticism and hundreds of objections when it was put forward in Fife Council's budget earlier this year.
Conservative councillors on both committees tried to pause the introduction of the scheme but their efforts were defeated.
With the installation of ticket machines and signs, the cost of the introduction will be around £85,000 at Ferrytoll and £60,000 at Halbeath.
Following the initial outlay, it is anticipated the move will recoup in the region of £190,000 a year at Ferrytoll, which costs £210,000 a year to run.
Funds in the region of £130,00 would be raised at Halbeath, which costs £170,000 a year to operate.
South and West Fife vice convener, Labour councillor Andrew Verrecchia, said: "While we understand that the introduction of a £1 per 24-hour charge will be unpopular, it is important to realise that the income will go only part way in offsetting the overheads.
"We do not want to deter use of what is an exceptional facility, and both Ferrytoll and Halbeath will remain a very sustainable travel choice for travellers.
"Fife Council can no longer afford to wholly bear these significant costs."
SNP councillor Sam Steele said a number of good suggestions had been put forward by objectors and these should be investigated.
The introduction of the £1 fee at Halbeath park and ride was passed by the Cowdenbeath area committee without discussion.
Conservative councillor Darren Watt had cut a lonely figure in attempting to halt the charge with an amendment opposing the move.
With nobody to second his amendment, a motion to set aside the objections and press ahead with the £1 charge recommended by convener Linda Erskine, of Labour, and seconded by SNP councillor Rosemary Liewald was agreed.
Of the 285 objections, 95 were from Dunfermline residents and 38 were from Dalgety Bay.
There were 16 objections from the Cowdenbeath area.