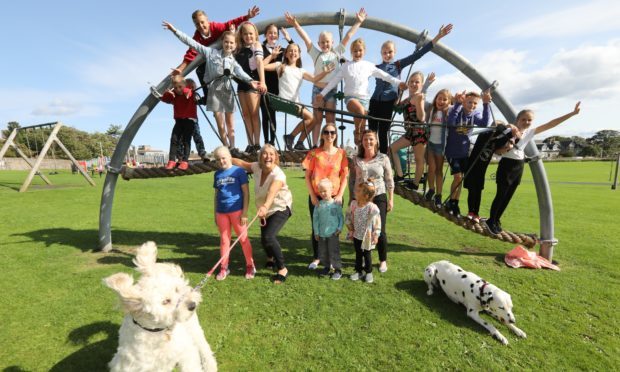 People power has saved a Fife park from having a care home built on it.
Outrage that part of Bankie Park in Anstruther could have been used for a new £6 million home saw a campaign launched against the proposal.
Fife Health and Social Care Partnership and Fife Council announced that due to the level of opposition the location was off the table.
They are now considering other options for replacing the town's ageing Ladywalk House.
Keep Bankie Park Green campaign spokesperson Susanne McElhinney said: "It's been a huge community effort and I am proud to be part of such a strong community.
"We want to thank Fife Council for listening to the local people and making the right decision.
"It's very important we keep the care home in the local area and we have offered our help to identify suitable sites."
The group gathered more than 2,000 signatures in an online petition.
Graham Ellery, spokesperson for Keep Bankie Park Green Campaign said its members were "overjoyed".
He said: "It's a welcome relief to know that Fife Council has listened to the concerns of the community and we look forward now in supporting efforts to find a suitable location in the town for the much needed replacement of the Ladywalk House care home."
Chairman of Kilrenny, Anstruther and Cellardyke Community Council Andy Peddie said: "This was the correct decision for Anstruther.
"There still remains a big challenge to maintain the very high standard of care to our most vulnerable residents currently living in Ladywalk. We will work closely with Fife Council to find the best local location for the new care facility."
Liberal Democrat Mr Rennie said: "The local community has come together with a very powerful message and I am pleased it has been heard."
SNP member Mr Gethins said: "This was a locally driven campaign that involved a lot of hard work by those who feel strongly about this important community resource."
East Neuk and Landward Conservative councillor Linda Holt said: "(The council) say communities are at the heart of what they do. It doesn't always seem like that but it's the right decision for Anstruther to safeguard this space."
Fellow ward councillor, Liberal Democrat Bill Porteous, said: "I will continue to work with my fellow councillors and Fife Council Officers to find a suitable site and I believe preferably in Central Anstruther.
SNP councillor  John Docherty said: "I am pleased the right decision has been taken."
Councillor David Graham, spokesperson for the Health & Social Care Partnership said: "This process from the beginning has been about engaging with the community in an open, honest and transparent way.
"We rely on the community to share their views so we can help build on the services we provide in Fife and we appreciate the time taken to provide feedback."
Work to identify a suitable site for the new care home will continue.
The Royal Burgh of Kilrenny, Anstruther and Cellardyke Community Centre has already suggested that land beside Skeith Medical Centre would be a more suitable location.