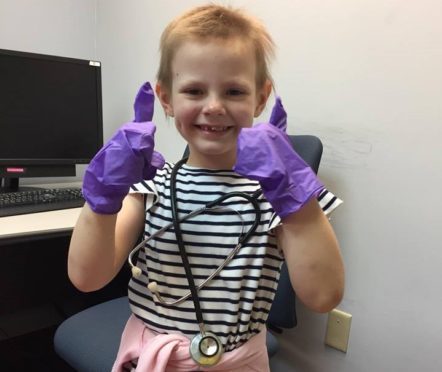 Mourners of a Fife girl who died of leukaemia have raised money for a boy facing a similar cancer battle.
Six-year-old Darci Jackson was laid to rest in Kirkcaldy last week, having passed away when she suffered a second relapse.
At her funeral £2,100 was collected for Joshua Nicholson, of Solihull, who also suffered a second relapse with leukaemia but is currently in remission.
Many have also donated to Joshua's appeal in Darci's memory.
Darci's parents Graeme and Amanda, both 42, had launched a campaign to raise £800,000 to send her to the US for ground-breaking treatment, but she died hours later on August 31.
The schoolgirl was diagnosed with acute lymphoblastic leukaemia just a fortnight after the family moved from Kirkcaldy to Saudi Arabia and her parents and siblings Daniel, 13, and Sienna, 11, returned to bury her in their home town.
Amid the family's devastation at losing their "superhero", Graeme said the amount of money raised for Joshua at her funeral was fantastic.
He said: "Joshua's case is very similar to Darci's and we wanted to give the money to someone in a similar position.
"He will hopefully start his treatment in the next couple of months.
"CAR-T cell therapy has recently been approved for use in Europe and he is on the waiting list."
Joshua, 9, is awaiting CAR-T cell therapy, the treatment involving genetic engineering of cells to recognise and fight cancer cells which it was hoped Darci would receive.
Although the costs of the procedure will be met by the NHS, Joshua's family face huge expense while they stay in London during his treatment and recovery at Great Ormond Street Hospital.
NHS England announced only a fortnight ago that it would make the 'game-changing' therapy available to children and young people.
Darci had been on her last three sessions of chemotherapy when her condition deteriorated suddenly and she died days later.
The appeal to fund her treatment went viral and more than £50,000 was raised in less than 24 hours.
After her death, her family paid tribute to their "caring, feisty, brave, courageous, strong-willed and fun-loving little girl" and said she "put up one hell of a fight".