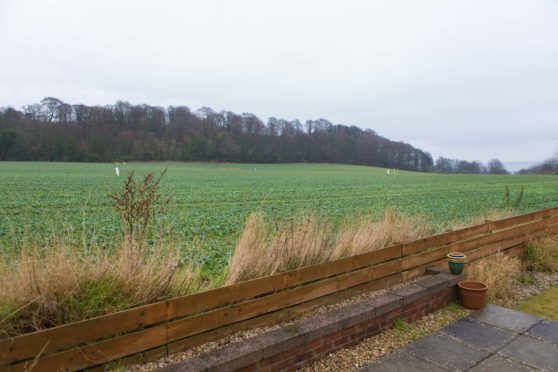 Aberdour residents face being stuck in a "Groundhog Day" campaign against housing developers, according to a local MP.
Lesley Laird, the Labour MP for Kirkcaldy and Cowdenbeath, spoke out after housebuilder Cala launched an appeal against Fife Council's refusal of its plans for 85 new homes on farmland at the east of the village.
Mrs Laird said residents had grown "weary" of repeated attempts to build in the village.
Cala has argued local families trying to find new homes will lose out as a result of the plans being refused.
"This has become nothing less than a war of attrition and weary Aberdour residents fully expected an appeal to happen," said Mrs Laird.
There were 855 objections in relation to the plans, with concerns raised including impact on the village landscape and traffic congestion.
Mrs Laird has urged the Scottish Government to accept Labour proposals for reforming the Planning Bill.
"We desperately need planning reform because, as planning laws stand, there's no incentive for developers to give up a fight because they're only too aware that communities have zero rights of appeal," she said.
"Given the determination of developers to build in Aberdour, I fear residents will remain stuck in a perpetual 'Groundhog Day' campaign."
A Scottish Government spokesman said: "Our Planning Bill will make the system more efficient and effective. Rather than legislating for third party rights of appeal we believe that much more can be achieved by involving people in a positive way at an earlier stage in the planning process, a view backed by an independent review of the current system."
The Cala proposal was recommended for approval by council officers but thrown out by councillors on west planning committee.
Cala said it had been "inundated with requests" from potential buyers looking to reserve plots.
Steven Cooper, planning manager for CALA Homes (East), said: "There is a recognised critical shortage of homes across Fife.
"The head of planning agreed that the proposals were fully in accordance with the local development plan.
"The people at the sharp end and who lose out most here are existing local people who want to remain in the village but cannot find a home, as well as those on the waiting lists, who are in desperate housing need.
"The needs of these families do not appear to have been given any weight in the council's refusal decision."
Easter Aberdour Residents Group said the village was "once again under siege from major building companies".
A spokesman for the group said: "Development of the Main Street site has been rejected by the Scottish government reporter on two previous occasions.
"It is unacceptable that democratic decisions are automatically challenged without an equal right of appeal being available to local communities and that these development companies are allowed to endlessly attempt to defy the settled will of communities and planning authorities."