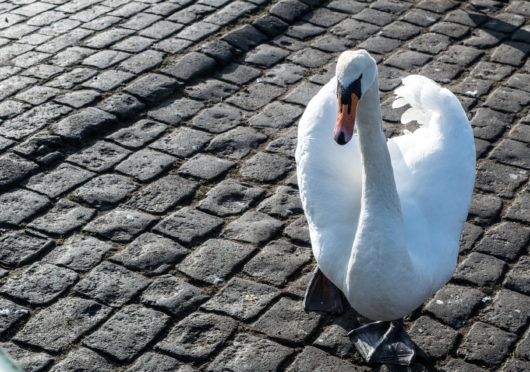 A wayward swan ruffled feathers as it was rescued from a busy dual carriageway in Fife.
Police officers swooped on the A92 after reports of the large bird on the road near Kirkcaldy.
They deployed a rolling block of the road to keep traffic away as a Scottish SPCA officer caught the bird to remove it from danger.
Worried motorists raised the alarm after spotting the swan shortly before 10am on Wednesday at the Bankhead roundabout.
A spokesperson for Police Scotland said: "We were called to assist as there was a swan on the road.
"It seems it was on the central reservation.
"We helped with traffic management so the Scottish SPCA could retrieve the swan."
The bird, which appeared none the worse for its ordeal, was taken in by the animal charity to be checked over before it is released back into the wild.
Scottish SPCA Chief Inspector Paul Anderson said: "We can confirm we were alerted to a swan on the A92 between Kirkcaldy and Glenrothes on Wednesday morning.
"The swan appears to be uninjured but it has been taken to our wildlife centre at Fishcross to be looked over.
"Anyone concerned about the welfare of an animal should contact our helpline on 03000 999 999."
It is not the first time a swan has caused a splash by landing on the A92. One was reported in the middle of the southbound carriageway on the same stretch in November, last year.
Just a fortnight ago residents in the Whitfield area of Dundee were left in a flap after a family of nine swans went for a walk outside their normal habitat, stopping traffic.
A video showed the seven cygnets, pen and cob walking in single file at bus stop on Berwick Drive.
Local residents formed a human chain and shepherded the birds back to Middleton Woods, where it thought they had come from.