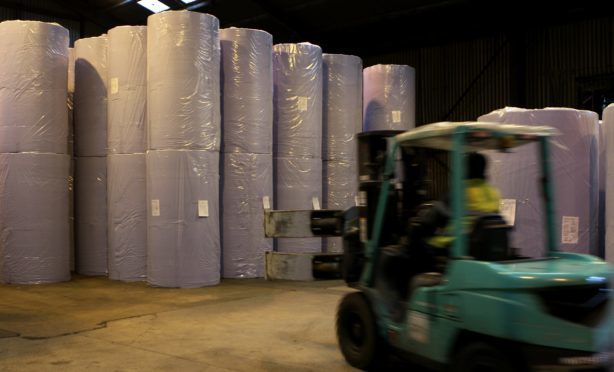 A Fife paper mill worker was seriously injured in an accident involving a forklift on Monday.
The man, who is in his 50s, was airlifted to Ninewells Hospital in Dundee, with what are understood to be critical injuries after he was crushed against a wall by the vehicle.
The incident happened at the Sapphire Paper Mill in Leslie at around 10.40am.
Northumberland-based Fourstones Group, which runs the mill in Glenwood Road, has declined to comment but the Health and Safety Executive is investigating the circumstances.
Locals reported seeing the Scottish Air Ambulance land next to the mill, which has been producing thousands of tonnes of tissue for commercial use every year since it opened in 2010.
A source said the worker had been pinned to the wall by the forklift and looked to be badly hurt.
"The air ambulance was there and took him to hospital and the police were called," he said.
"Everyone was really shocked. I hope he's going to be okay."
A Police Scotland spokeswoman said officers had been called by the ambulance service amid reports a man had been struck by a forklift truck on site.
"The man in his 50s was taken by air ambulance to Ninewells Hospital in Dundee with serious injuries," she said.
"The Health and Safety Executive have been notified."
Sapphire Mill, formerly known as Fettykill Mill, lay empty for four years before being taken over by owners Peter and Pauline Duxbury, who said it was a perfect location to expand their business.
It was previously owned by Smith Anderson and at one time was one of several paper mills across Fife.
It is now the only mill left in the region, manufacturing cellulose wadding and hospital disposable underpants as well as tissue for UK healthcare and industrial markets.
The firm also operates the South Tyne Mill at Hexham in Northumberland and employs 155 people.