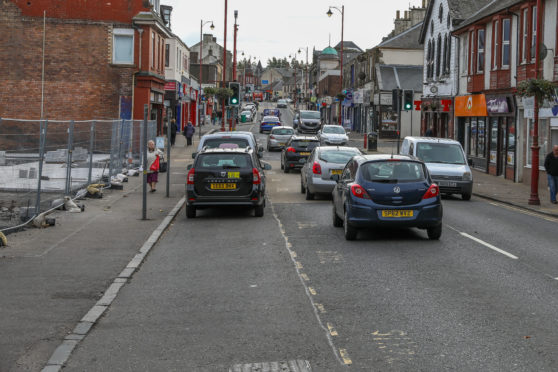 Proposed changes to parking, taxi ranks and bus stops in Cowdenbeath town centre will be reviewed after a year amid concerns about congestion.
Fife councillors agreed to consult on new traffic regulations which would alter where cars, buses and taxis can stop.
The revision forms part of a £1.5 million project aimed at revamping the heart of the former mining town.
Work is being carried to improve the streetscape, provide better facilities for pedestrian and cyclists and create an event space at the former Ritz video site.
It means new traffic orders are required to alter parking, waiting and loading arrangements in the High Street, Hall Street, Stenhouse Street, Pit Road and Natal Place car park.
Fife Council's Cowdenbeath area committee agreed to publish the new traffic regulations orders for consultation, after previously delaying a decision.
---
---
Councillor Alex Campbell proposed the new arrangements be promoted but assessed after a year to see how they work. He said: "It's got to be given a chance."
Fellow committee member Councillor Ally Bain voiced concerns about some elements of the plan, which he warned could lead to emergency services vehicles struggling to get through the town.
He said: "I think this is going to be a backwards step. We are going to end up with congestion in the High Street."
Councillor Lea McLelland warned many shoppers were already turning their back on the town because of "nightmare" traffic problems.
If approved, the changes in the High Street will see vehicles barred from stopping at the new event space, with the taxi rank there shifted to where the bus stop is outside Iceland to Greggs, and the bus stop relocated.
Traffic lights would be installed at the junction with Hall Street and the pedestrian crossing outside Partners bar removed.
They would also see a section of Pit Road stopped up to traffic and a one-way restriction removed, and limited waiting and disabled bays introduced in the Natal Place car park north of Brunton House.
Parking would be permitted in the Natal Place car park for up to two hours, rather than one as previously proposed.
The changes had caused consternation among local residents, business owners and taxi drivers.
The committee was told that the town's community council was supportive of the latest proposal.