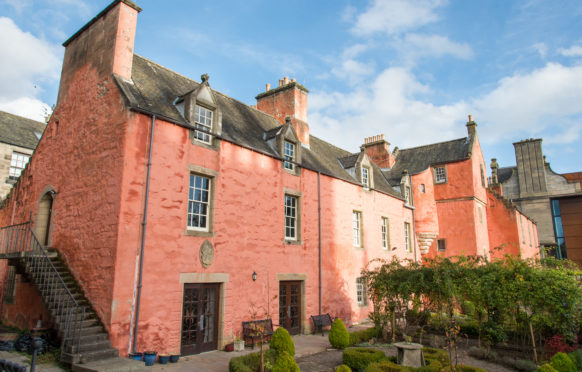 The charity breathing new life into Dunfermline's Abbot House is aiming for a beautiful modern location respecting the building's history.
Refurbishment work is due to start in 2019 following the submission of building plans for the town's oldest house.
The plan is to create a thriving cultural hub in the historic quarter which can be enjoyed by locals and visitors.
Its cafe and outdoor seating area would be reintroduced, offering contemporary food, including goods made in its own artisan bakery, housed in outbuildings. A restaurant would be aadded.
It could also fill the gap left by the closure of the town's tourist information centre.
The heritage of Abbot House and Dunfermline would play a central role in the project.
A portion of grant funding has been secured on the promise of supporting traditional local skills and crafts.
There is ongoing discussion with the Heritage Lottery Fund Great Places project which aims to support bringing much of these lost skills back to life through workshops and classes held in the pink hoose.
The garden would also be an important part of the repair programme.
---
---
A team of volunteers have been working in the gardens to keep them well tended and thriving while the centre is closed. The profits generated will be reinvested into Abbot House.
Abbot House SCIO trustee Lynn Gemmell said: "The purpose of Abbot House is to provide a beautiful, social and modern location for the people of Dunfermline, while continuing to value and respect it's history and traditions.
"It's a very exciting project."
After months of intensive work, Woodside Parker Kirk Architects has submitted plans for the reopening.
It has carried out extensive research, reviewed historic drawings and investigated the building, taken advice from Historic Environment Scotland, Fife Council and a number of specialists to devise a plan allowing as much of the building as possible to be available for community use.
A significant improvement is to update the external 1960s concrete stair to make it compliant with current building standards and to add a platform lift to make the first floor fully accessible for the first time.
Heritage experts Adams Napier Partnership have been guiding the team and liaising with contractors.
Owner Carnegie Dunfermline Trust has been keeping it wind and watertight and has supported the development of the charity whose purpose is to maintain Abbot House.
Trustees have been working to raise funds and have secured pledges from Historic Environment Scotland, Fife Environment Trust, Fife Council, Architectural Heritage Fund and Carnegie Dunfermline Trust.
More information is available at www.abbothouse.org.