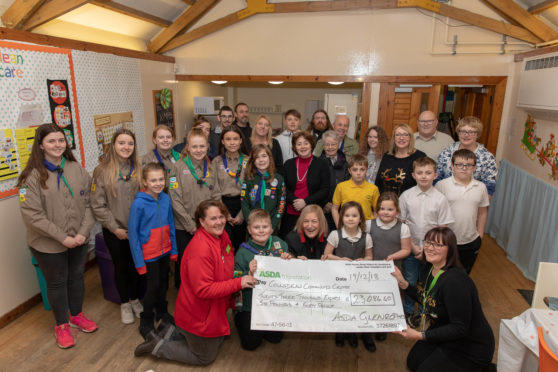 A funding boost may allow a Fife centre to give hot meals to the homeless next Christmas.
The community group has received a donation of £23,086 from Asda Glenrothes through the Asda Foundation.
It will help the Collydean Community Centre expand and carry out a much needed upgrade to its kitchen facilities.
Launched in 2015, the Glenrothes centre has continued to grow to host many activities in support of the local community, from dog training and self-defence classes to social clubs.
The centre also runs a weekly community kitchen on Thursdays and Fridays providing warm and affordable meals for local people.
The Asda Foundation funding will go towards new equipment to help the centre to carry out this vital service.
The centre's Rose Duncan said: "We are so grateful to Asda Glenrothes and the Foundation for their support.
"We were completely taken by surprise with this amazing donation which will allow us to expand our activities and provide more to the locals.
"With this donation we can offer more help to the community, such as cookery classes.
"We hope with this expansion we can open the kitchen to the homeless next Christmas to provide them with a hot Christmas meal."
Set up in 1988, the Asda Foundation is a registered charity which aims to have a positive impact on local communities.
Celebrating 30 years of giving, the foundation funds charitable projects and activities what have the ability and potential to achieve change for the better.
ASDA Glenrothes community champion Avril Dullea said: "We see the foundation as one of the many ways to give something back to the communities that support us.
"Supporting smaller, local applications such as Collydean Community Centre is really important to us, and we hope it will make a real difference within the local community in Glenrothes."
To find out more, visit www.asdafoundation.org.