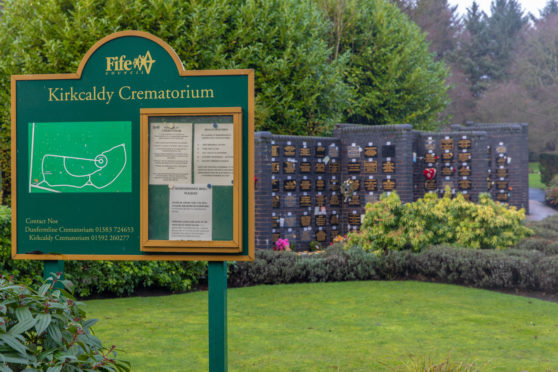 Fife families are being hit with a hefty unexpected bill to renew memorial plaques for their loved ones, The Courier can reveal.
Fears have been raised that hundreds of people across the region may be unaware the space they have been allocated for a plaque within the gardens of remembrance at Kirkcaldy and Dunfermline Crematoria and at cemeteries throughout the region, is only subject to an initial 10-year lease and is not an eternal allocation, as many have been led to believe.
Fife Council said the lease system is "essential" in allowing the local authority to manage provision, suggesting it would otherwise quickly run out of space.
However, it is understood an audit has had to be carried out on the leasing system after some customers advised they did not know about, and had not signed, a lease agreement.
One shocked central Fife man, who does not wish to be named, contacted his local councillor after receiving a letter stating if he wishes to renew the lease for a further 10 years he will have pay £227.
Conservative Cowdenbeath councillor Darren Watt is investigating and hopes people across Fife who have plaques in place for their loved ones are fully aware of the situation.
"I am very concerned that some loved ones may not actually realise they have, in fact, signed up to a 10-year lease and will at some point receive a bill for over £200 to renew.
"I have been working alongside Fife Council's Bereavement Services to ascertain how common this issue is and what steps can be taken to minimise stress and uncertainty to families.
"I would suggest anyone who is unsure if they have a lease for a plaque to contact bereavement services directly for clarity and confirmation."
Under the terms of the agreement, only memorials purchased from the council are allowed to be placed on a plot and inscriptions are restricted to seven lines and a maximum of 20 digits for crematorium memorials and six lines and a maximum of 18 digits for cemetery memorials.
Owners will be given the opportunity to either extend the lease for a further period of 10 years on payment of the fee set by the council or remove the plaque from the garden.
However, they only have 28 days to remove the memorial without causing damage to surroundings and fixtures, failing which the council can either remove it and dispose of it in any way it considers appropriate, or retain the memorial as property of the local authority.
Lead officer Avril Guild explained: "The 10-year lease for memorial plaques has been in place since 1990.
"The lease system is essential in allowing us to provide this memorial option in our Gardens of Remembrance.
"We have been contacted by Councillor Watt to discuss the particular concerns of one of his constituents and can confirm in the circumstances that we would be happy to discuss arrangements for a new lease for which no charge would be made."