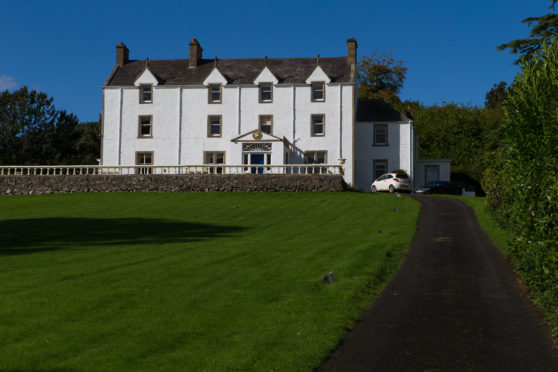 Doubt has been cast on weddings booked at a Fife mansion which is subject to an enforcement notice banning them taking place there.
An order made by Fife Council prohibiting commercial weddings at Carphin House was upheld by a Scottish Government reporter.
Marquees were erected at Carphin House to stage weddings without planning permission last year and it is understood more couples have booked the luxury venue for their big day this year.
An appeal to the government for a certificate which would have permitted up to 28 events each year as 'lawful development' also failed.
Despite being told by a government-appointed reporter the unauthorised use must stop, Ian and Ruth Macallan, who bought the 18th century manor in 2016, insisted they aimed to fulfil commitments and said further appeals will follow.
Use of the historic country retreat of the Carnegie family for weddings has been at the centre of a row with residents of rural Luthrie who say their lives have been made a misery by noise, antisocial behaviour and traffic.
Police and environmental health officers have been called out to intervene.
One resident, who declined to be named, said: "The community is delighted with the outcome of the appeals after all we had to endure last summer.
"We can't wait to get back our peaceful, tranquil village."
Another resident said she felt for couples who had booked their weddings there and face uncertainty. She said: "I think it's an absolute sin."
However, Mr Macallan said: "We're working with our solicitors to ensure that we fulfil all of our promises.
"We have had some really fruitful conversations already and look forward to solving this issue in the future."
Among a raft of appeals, planning permission was granted for a cabin in woodland 260ft from the house for use as ancillary domestic accommodation and storage.
Mr Macallan said: "As for the other notices we're looking forward to the next stage of appeals and are currently taking legal opinion on this.
"We're not worried about this year, but we would be incredibly sad to rob Fife of an incredible venue space for the future, based on a lot of inaccurate information."
Reporter Don Rankin said that while the house had been used for weddings in the past, the appellants had failed to prove unbroken use for at least a decade which would have rendered it immune from enforcement action.
Planning permission for a purpose-built wedding venue in the grounds of the nine-bedroom house was refused on appeal in August, last year.
The Carphin House website describes the property as the perfect destination for weddings.
A note states: "All dates now taken for large weddings in 2019 in 2020, although more dates may be opening up soon."
It also advertises the venue as a holiday retreat and for events, such as murder mystery dinners.
Legal action continues by the Macallans against the Arbuckles, of neighbouring Lower Luthrie Farm, over the use of the single track access road to Carphin House.