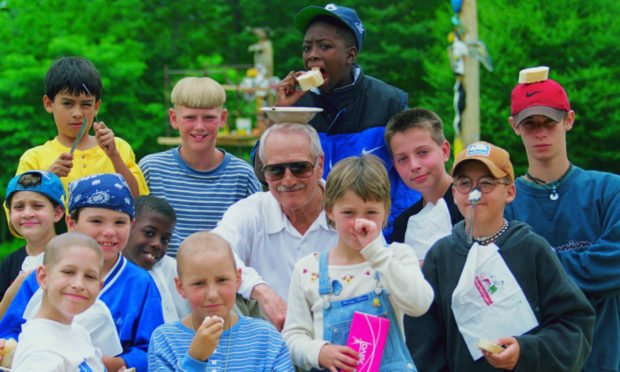 A charity originally founded by Hollywood legend Paul Newman is calling on local people to volunteer at its Fife-based retreat.
Over the Wall, the children's charity that provides free residential camps for children with serious illness is based in Tulliallan Police College. It has developed new "daytime volunteer" opportunities in a bid to encourage more local people to come forward.
This year marks the twentieth since the actor launched the organisation and a record number of children are expected to attend Tulliallan this year.
Ordinarily, volunteers are required to stay on-site for the duration of camp, although this year, in a bid to attract more local people in Fife, the charity has introduced the new daytime role.
This has been created specifically to appeal to local people who are unable to commit to volunteering in the evenings.
Zoe Grant, director of volunteering, explained: "This new daytime role is perfect for any local volunteers who have previously been unable to commit to staying at camp overnight.
"Now they have the opportunity to experience the wonder of camp but can go home at the end of the day.
"As well as having an impact on children's lives, this opportunity will allow people from Fife to meet new people and join a warm and fun-loving community – whilst gaining valuable experience and developing new skills."
Over the Wall's camps aim to enable children with health challenges to reach beyond the perceived limitations of their illness and help build their confidence, self-esteem and social skills.
However, fun is at the forefront of everything that goes on at the camps, and that was Newman's thinking behind the charity – the idea that seriously ill children should have a place where they could, in his words, "kick back and raise a little hell".
The camps take place in April and will focus on the families and siblings of children living with serious conditions, acknowledging the impact that their illnesses can have on family life.
Anyone interested in volunteering opportunities with Over The Wall or who would just like to find out more should go to www.otw.org.uk or call 02392 477 110.