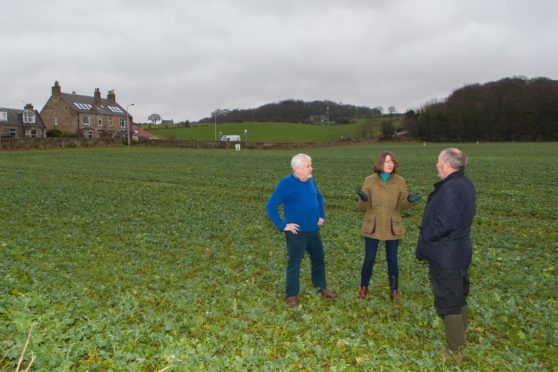 The Scottish Government has been urged to rethink a controversial planning decision to allow new homes to be built on a field in Aberdour.
On Wednesday, the government's Planning and Environmental Appeals Division confirmed a reporter was minded to grant Cala's appeal against Fife Council's refusal of a proposal for 85 houses to the east of the village.
Cala has lodged a partial claim for expenses against Fife Council.
The government reporter's reasoning included the 55% shortfall in housing land supply across the Dunfermline and West Fife Housing Market Area.
However, more than 850 objections had been received in relation to the proposal before it was unanimously rejected by councillors on West Planning Committee in July last year and the decision was criticised by local politicians.
Local SNP councillor David Barratt said: "The reporter took the view that the only important issue was a shortfall in the housing land supply and gave little credence to any other issues.
"The planning system is broken and although the decision has been taken by a reporter independent of the Scottish Government, it is up to the Scottish Government and cross-party MSPs to fix the system."
Green MSP for Mid Scotland and Fife Mark Ruskell said: "There are multiple reasons why this development is not suitable – from traffic and safety concerns on Main Street, to pressures on the local school and doctors surgery, and the fact that it doesn't provide genuinely affordable homes of the type local people need.
"I'll be writing to the Scottish Government to make it clear that they need to rethink this decision urgently."
---
>> Keep up to date with the latest news with The Courier newsletter
---
Mr Ruskell has said the decision to grant planning permission for 85 luxury homes on a swathe of farmland south of the A921 "makes a mockery" of local democracy.
The site was initially suggested as a preferred site for housebuilding under the local development plan but it was left out of of the FIFEplan after opposition from councillors in response to residents' concerns.
In the Scottish Government's examination of the FIFEplan, a reporter said the road network at the east of the village was "not ideal" and that the west of the village should be considered for any future growth.
Mr Ruskell added: "This decision today makes an absolute mockery of the Fife development plan, our planning process, and local democracy as a whole. The community has played by the rules at every stage, participating in drafting the plan, lodging their response to the proposals, and working with their local representatives.
"The government reporter has ridden roughshod over local wishes."