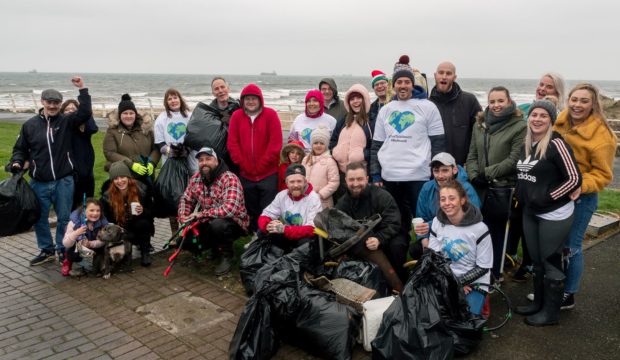 Beach clean volunteers have vowed never to use wet wipes again after filling 90 bags with them.
Teams who tidied a stretch of the coastline from Kinghorn to Dysart were alarmed at the volume of wipes strewn along the shore.
When they were piled up the haul was the size of a car.
Some 120 bags of litter were collected during the clean-up operation by more than 75 volunteers. The group also collected five tyres, three shopping trolleys and some lobster traps.
The wipes had accumulated near the Pathhead sewage treatment plant at Kirkcaldy.
Clean-up organiser, Mark Reynolds, of Revolution Barbershop, said: "Most of the wet wipes were from a high tide line a football pitch long.
"They piled up to the size of a car.
"I'll never use one again."
Wet wipes can cause long term problems for sea creatures and the marine environment when they end up in oceans.
They are among a list compiled by Friends of the Earth of 10 household items of most concern for their impact on the marine environment, which also includes cotton buds, disposable cutlery and plastic water bottles.
They are also a leading cause of the hundreds of thousands of sewer blockages in the UK each year, which it is estimated costs £100,000 to clear.
In the Revolution Barbershop Beach Clean, two teams of litter pickers spent two hours ridding the coastline of as much waste and debris as they could.
One team started at Kinghorn and the other at Dysart and worked their way along to the Kirkcaldy Esplanade basin car park.
They were transported by Kirkcaldy Rugby Club and treated for their hard work with an after party in the Kirkcaldy barber shop, with sushi, pizza and drinks laid on by Mark and Koku Shi restaurant.