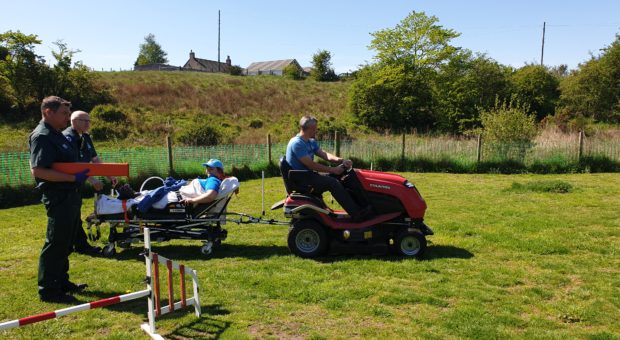 Paramedics were stumped as to how to get injured patient Mary Grant painlessly over rough fields.
Until a cunning plan was formed to hook a stretcher to the back of a little tractor, that is.
It may sound like a shaggy dog story, but that's exactly what happened when the drama unfolded at KDW Doggie Day Care in Kelty last Thursday.
Mary, who has worked for the owner Debbie Clarke since last August, was out teaching puppy agility about three fields away from the centre, near Cantsdam.
As she was putting the pooches through their paces, over little jumps and seesaws, she turned quickly, fell and dislocated and broke her ankle.
Luckily, other team members were near her on the sprawling centre and rushed to her aid.
The Scottish Ambulance Service was called and were quickly on the scene.
But then they were faced with the problem of getting Mary, who works as a senior dog handler, to the ambulance.
"There are 25 acres where the dogs can run and exercise and she was stranded in a hilly area a big distance from the car park," Debbie said.
"Quickly on the scene the paramedics attended and had Mary strapped onto the wheeled stretcher.
"The question was, how to get it across three undulating fields to the waiting ambulance?"
Trying to lift her would have caused her too much pain, so the team had to come up with a quick solution, Debbie added.
The terrain also meant getting the ambulance to the scene was all but impossible too.
"We hooked our 4×4 tractor to the stretcher and ended up pulling her through the fields.
"The paramedics did not know what we would have done as they'd have found it very difficult to move her," Debbie added.
"Even though she was obviously in a lot of discomfort, she still saw the funny side when she laid eyes on the makeshift rescue vehicle.
"No air ambulance for her I'm afraid," Debbie added.
She added that Mary was still in good spirits after her ordeal.
She is scheduled to have an operation on her ankle on Monday and will be off work for some months.
But Debbie added: "She says she'll remember the day, not for the accident but for being rescued by a garden tractor."