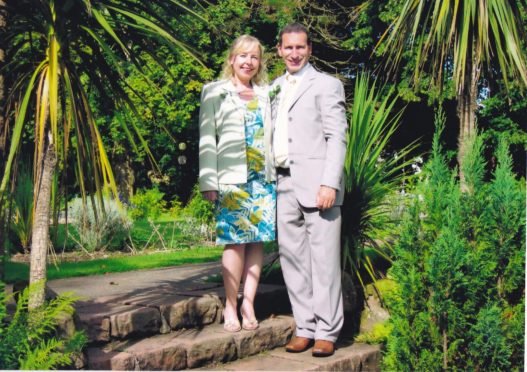 Tributes have been paid to the Glenrothes couple killed in a road traffic accident in the town at the weekend.
Described as a "loving and devoted couple", retired engineer Harry Taggerty,61, and 58-year-old Shirley Taggerty, a former Pitteuchar East Primary School drama teacher, were killed following a collision with a grey Ford Fiesta on the A911 Leslie Road close to Riverside Park on Saturday July 13.
Paying tribute to Mrs Taggerty, who retired from her teaching post only last year, Peter McNaughton, Fife Council's head of education, said: "We're deeply saddened by the loss of Shirley Taggerty.
"We know that she will be missed by colleagues and pupils in Fife. Our thoughts and sympathies  are with Mr and Mrs Taggerty's family and friends at this extremely difficult time."
Jennifer Knussen, head teacher at Pitteuchar East added: "As you will understand, we are devastated by this news, and extend our thoughts, love and condolences to Shirley and Harry's family, who must be absolutely bereft at this time."
The town's MSP Jenny Gilruth, a former teacher, also paid tribute: "My thoughts are with Mr and Mrs Taggerty's family at this difficult time.  The nature of this incident will be devastating for those who loved them and who worked with them over the years.
"I know that Mrs Taggerty touched the lives of many Glenrothes pupils and I am sure she will be in their thoughts and prayers."
Glenrothes SNP Councillor Vikki Wilton added: "I was saddened to learn that this tragic accident. Mrs Taggerty retired from her post at Pitteuchar East Primary school last year, where she was a popular and much-loved teacher.
"Staff and pupils, past and present, are devastated by this news. My thoughts and sympathies are with Mr and Mrs Taggerty's family, friends and staff at the school at this extremely difficult time."
Meanwhile, tributes have continued to come from former work colleagues of Mr Taggarty's, from his days at Anderson's engineering works in Glenrothes.
Willie Thomson, said: "It's such a tragedy, he was a very skilled and highly respected engineer.
"He was also good fun to be around, nobody had a bad word to say about him.
"I'm a member do the Anderson Old Boys online group and since news of the tragedy broke it's has been swamped with messages of condolences from former colleagues.
"The tragedy has come as a great shock and has hit a lot of his friends very hard."