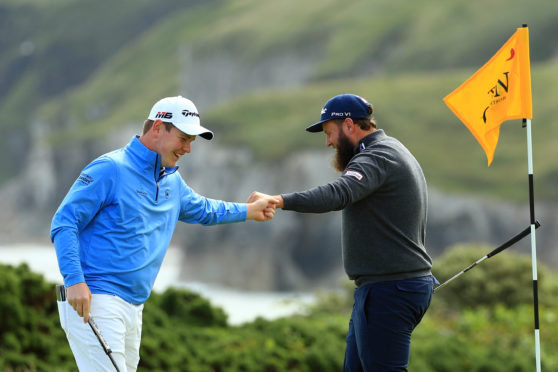 Down along the rolling terrain beside the 18th fairway at Royal Portrush, the rainstorm mercifully abated and Carol MacIntyre thought it might be a good time to get a wee snap of the Big Yellows, the famous scoreboards that sit atop the main grandstands flanking the green.
They were just being adjusted by the operators to show that her 22-year-old son Robert was leading the Open Championship playing the 18th hole. Her excited foster son Tom held the brolly while she focused her phone.
Just to her left, Robert was having to hack out of the rough and play his third shot into the green, and his 15-foot par putt slithered off the edge of the cup just as another shower took hold.
It was a 68 rather than a 67 that would have tied Shane Lowry for the first round lead, but it was still a pretty incredible Open debut by the young left-hander from Oban.
Did he see his name up there during his round?
"I'm watching the leaderboard every moment," he said later. "I eagled the fifth (to go to three-under at the time) and I turned to Greg (Milne) his caddie and said, `look, we're leading the Open'.
"I was taking memories from everything, walking round. I just kept glancing at the leaderboards and thinking: `Can we win this?'
"It's only day one and we're just going to have to keep going. But I think I can. I just need to keep putting myself into a position to do so.
"Come Sunday on the back nine, if you've got that chance, that's the way I play golf – I keep going at it."
This has been true all season, and never clearer than the fifth, just after his promising early start had stalled with a bogey at the fourth.
He and Milne were discussing what to hit at the downwind 347-yard hole, and Robert decided to still be bold, even though he later admitted he was wrong.
"I thought the club was too much and Greg said he didn't like the driver," he said. "I was also thinking it could come up short and leave me an awkward putt.
"So I ended up hitting driver. He was right, it was too much club, I missed out of bounds by just five yards.
"But you get a bit of luck, and hopefully you take advantage of it. I was worried the (30 foot, from the fringe) putt would go by the hole, but the green was sitting into me, I gave it a rap, and it went in."
He played beautifully for birdie on 17 to reach four-under but couldn't be upset with himself for the five down the last.
"It's all come faster than I ever thought," he said. "I was really expecting to have another year on the Challenge Tour.
"But life's a rollercoaster – and we've just got to keep riding it."
His caddie and him talk about everything but golf during play – "he likes the hurling, I like shinty" and having Beef Johnson is his three-ball helped keep things light.
"I had no idea where Oban even is, but I do now," said the irrepressible Beef, who was greeted at every green. "Bob said it's about level with Edinburgh, except you go left."
Macintyre also takes whatever opportunity he can to tone it down, whether that means opting out of practice rounds with Francesco Molinari and Ian Poulter as he did this week, or nipping over to neighbouring Archerfield when the attention at the Scottish Open at The Renaissance got a little too overwhelming.
"It's about preparing for what's next, and using it. Going on the Mini Tour prepared me for Q-School, which prepared me for Challenge Tour, and that prepared me for the main tour.
"And last week, playing with Rory and Rickie, prepared me for this week. Everything that's happened just now has prepared me for the next thing.
"There's still more things to see and prepare for. And I just have to take all that as it comes."
Staying with the family in a house  lose to the course will keep things relaxed. And whatever happens in the next three days, there's plenty of learning to be done for MacIntyre's increasingly promising future.