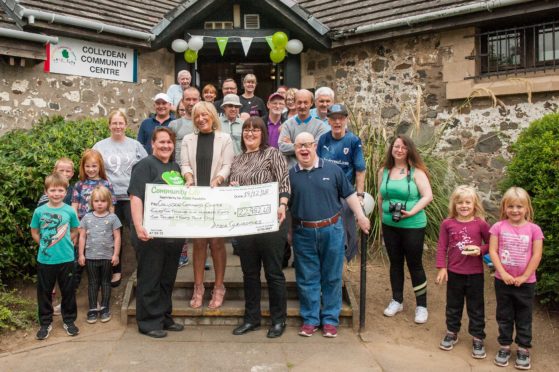 A new community kitchen is open for business and catering for people across north Glenrothes thanks to a £23,000 gift.
Collydean Neighbourhood Centre, which already provides a range of vital support services of all ages, celebrated the opening with a family barbecue attended by more than 100 local residents.
The facility's addition is the latest in an ongoing programme of improvements to the centre, which is fast becoming a central hub for people living in the area.
The revamp was possible thanks to a cash award made by ASDA's Community Fund at the Glenrothes store and follows a £10,000  financial contribution already made by Fife Council.
Rose Duncan, centre manager, said the new kitchen will allow volunteers to reach out to support more people than ever before.
She said: "Sadly we are seeing a rise in people suffering food poverty and struggling to make ends meet so are delighted to finally have the community kitchen up and running so we can provide a helping hand to those families and individuals that may need it.
"But it will allow us to do so much more too. Groups will be able to come and use the kitchen for classes and we will also be providing a service for those who people who would otherwise live in social isolation.
"We now plan to open five days per week and will also open on Christmas Day to provide a meal for those who may otherwise go without."
The kitchen refit is the latest in a planned £300,000 regeneration of the centre and with Rose and her team having already secured the first £100,000 of that target, the facility is fast becoming a vital asset for residents in the north of the town.
"We are already seeing an increase in support by the public and by local companies which is fantastic," said Rose.
"Workers from the RWE-run biomass plant have only this week paid for and completed redecorating the interior which we are so grateful for."
The kitchen won the approval of local councillors who attended the opening.
Conservative councillor Mick Green said: "There's so much good work that goes on here and to see that supported so fervently by residents shows you just what Collydean Centre means to people in this area."
Labour councillor Jan Wincott added: "Collydean Neighbourhood Centre is a true asset for Glenrothes and I'm delighted to see it going from strength to strength."