VIDEO: Witnesses stunned as woman on horseback launches foul-mouth tirade at Fife country park
By
Craig Smith
August 5 2019, 1.02pm
Updated: August 6 2019, 8.06am
An investigation has been launched after a woman on horseback launched a foul-mouthed tirade at visitors in the middle of a popular Fife park.
Witnesses said the rider brazenly walked the horse through the middle of a busy picnic area at Lochore Meadows Country Park.
When challenged by passers-by who were alarmed by her behaviour, the woman – who appeared to be wearing furry boots – repeatedly remonstrated with them, shouting and swearing at people as families were enjoying the sunshine just yards away outside the Willie Clarke Centre.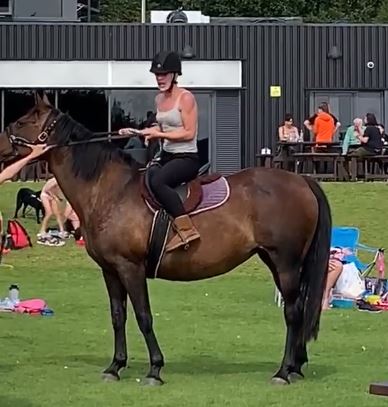 Onlookers were then amazed to see the woman lift young children on to the horse for a ride without supplying them with safety equipment or a helmet.
Footage has also emerged on social media showing a young boy nearly falling off the horse as it lurched forward.
The video, seen in parts above this article, has been viewed tens of thousands of times and has attracted an overwhelmingly negative response from Facebook users.
"How was that even allowed to happen?" said one user.
"That horse should never have been in an area with so many people, especially kids! That could have gone so wrong!"
Another summed up the mood when she said: "Her behaviour was deplorable, she was so very close to people sitting having a good family day out with children of all ages.
"Had the poor horse reared or kicked out there could have been serious injury."
The rider was accompanied by another woman on a horse who could also be seen arguing with people in the park, before the pair left the area.
Police Scotland is said to be investigating the incident, while a spokeswoman for Fife Council said the local authority is "assisting with their enquiries".
More from The Courier