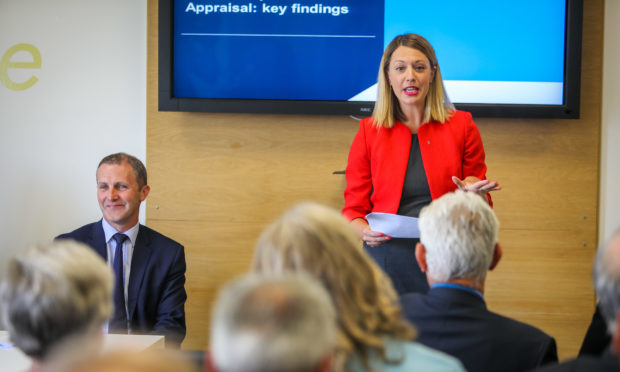 Calls to reopen the Levenmouth rail link began almost the day after it closed to passenger trains in October 1969.
While houses now stand on the site of the former railway station, the track is more or less intact and the land remains in Network Rail's ownership.
This, along with a concerted campaign led by around 15 dedicated local people which gained cross-party support from politicians, gave the Scottish Government compelling reasons to announce its reinstatement.
Around 750,000 passengers are expected to be using it within 20 years.
An emotional Dr Allen Armstrong, secretary of Levenmouth Rail Campaign, said it was amazing that a community-driven effort had achieved so much.
"It's so overwhelming, the fact we've reached this," he said.
"There has been good support from the public but also elected representatives have stood together.
"We've been banging our heads against a brick wall for five-and-a-half years to bring it up the political agenda and I really didn't expect this outcome today."
The reopening of the Levenmouth rail link is to be taken forward to the next stage @MathesonMichael has confirmed that the case has been made and that design work will begin #LevenRail https://t.co/JeODd0oH8u pic.twitter.com/hI93VKj29b

— Transport Scotland (@transcotland) August 8, 2019
Mr Armstrong said the railway was one part of a jigsaw of measures with the potential to transform Levenmouth.
"The area is on its knees and is in need of a boost. This will bring opportunities," he said.
SNP MSP Jenny Gilruth said: "I hope we can reflect on how truly significant today's announcement really is.
"The people of Levenmouth will now expect action and who can blame them after half a century?
"This is the time for the hard work to really begin. Levenmouth is now officially back on track."
We're back on track @LevenmouthRail! Absolutely delighted for my constituents! ??? https://t.co/mdQ3vEZdfj ??? pic.twitter.com/hw0DQN4wpK

— Jenny Gilruth (@JennyGilruth) August 8, 2019
https://www.facebook.com/StephenGethinsSNP/photos/a.1532787000305610/2282368765347426/?type=3&theater
Fife Council will be contributing £5 million towards the £10m Levenmouth Blueprint.  Labour co-leader David Ross pledged the money would be found despite the challenging financial times.
"The case for this is undeniable. It could represent a renaissance for the whole of Levenmouth," he said.
"While it's just for passengers at this stage, it will be capable of being developed for freight.
"Now there is a financial commitment, we're in a much stronger position to talk to businesses like Diageo about what it will mean for them to get freight off the roads and onto rail."
A massive thank you to @LevenmouthRail for all their years of hard work. It's been a long road you've travelled down but the end result will be well worth it. I look forward to many more meetings with you as the rail link takes shape. pic.twitter.com/DQmjgdNNSM

— David Torrance MSP (@DavidHTorrance) August 8, 2019
SNP co-leader David Alexander said: "This is a critically important project.
"I've never been happier as a councillor. I used to go on the train from Windygates and the chance to do it again will bring back wonderful memories.
"This isn't just a transport project, it's a social inclusion project.
"It will tie everything together and in five to 10 years Levenmouth will look very, very different."