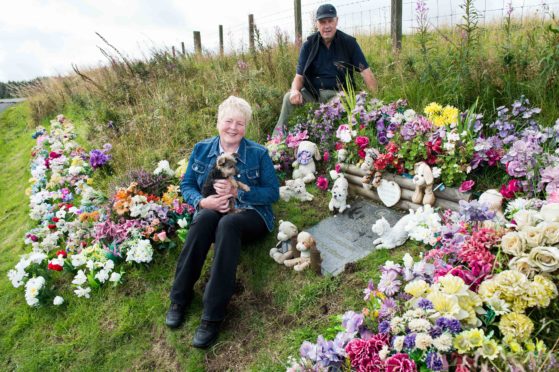 A Fife animal lover is hoping readers of The Courier will help her solve the mystery of "Wee Danny".
Moira Campbell chanced upon an unmarked grave to someone's obviously much-loved canine companion on the country road between Blairadam and Cleish last year.
Despite a huge effort to find out more, Moira is still no further forward in her search for clues.
The tale started last year when Moira, 60, went out for a drive.
She said: "I saw some cob horses and as I keep carrots in my car, I got out to feed them.
"I had to walk up a steep bank at the side of the road to get to them. It was waist high with weeds and I tripped on something and came down hard on my knee."
Pulling away some undergrowth, she found some wooden posts and a stone memorial.
"I cleared all the weeds off it and found out it was a dog's grave, covered in a big granite stone."
It was inscribed "in fondest memory of Danny, best friend and companion" with the date October 20, 1994 and an etching of a dog, perhaps a Scottish or Westie Highland terrier.
Intrigued, she and friend William Robertson returned and cleared up the site, replacing the wooden posts where they were broken, and planting bulbs.
Moira, who works in Morrisons in Cowdenbeath, set up a Facebook page to share the mystery dog's story, in the hope someone would know the reason behind his last resting place.
While that has failed to throw up any clues to man's faithful friend, it has mobilised a little army of dog lovers who visit and make sure the shrine is always looking tidy.
There have even been gifts of flowering bulbs from one woman, Rowena Dexter, who lives in America.
Moira said: "I look at it like the story of Greyfriars Bobby, almost.
"Someone must have loved Danny so much. I'm an animal lover and I've had rescue dogs since I was 14, so this struck a chord with me. How did it come to be there?
"There are no houses nearby, so maybe this was a much-loved spot where Danny and his owner liked to walk."
Moira, who is originally from Inverness, said friends often say she was meant to find the grave.
"I only stopped to feed the horses and I never saw those horses again – it was like I was meant to find this.
"I feel humble to have found it and now I feel responsible for it and I visit once or twice every week. I would love to find out more about it."
Anyone who can shed some light on Danny can visit https://www.facebook.com/findmyowners/ or call The Courier on 01382 575666.