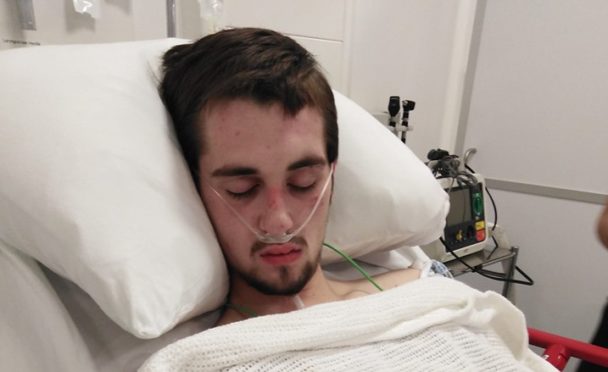 A Fife mum has has issued a warning to other parents over the dangers of drugs after her son was found moments from death after taking a fake Valium pill.
Lynn Berry from Ballingry has taken to social media to highlight the lethal threat of illegal substances and pills after her 19-year-old son, Brodie Canning, was found by police at an address in the town last week.
He had collapsed after taking a tablet which is thought to have been laced with fentanyl, a chemical said to be 50 times stronger than heroin.
Lynn said the ordeal had been every mum's nightmare.
"If we hadn't found Brodie when we did, god forbid what could have happened," said Lynn.
"We've been told he was found just in time, any later and Brodie could have died.
"The problem is people don't know what they are taking until it is too late."
It's understood that police are treating the incident as an isolated case with nothing to suggest there is a wider problem or trend of valium/ fentanyl use in the area.
https://www.facebook.com/photo.php?fbid=352520102367956&set=a.104202470533055&type=3&theater
A spokesman for Police Scotland confirmed that a report was received on August 14 of concern for a 19-year-old man in Ballingry.
"Inquiries were made and the man was traced within an hour," he said.
"He was taken to the Victoria Hospital in Kirkcaldy after taking unwell."
Following the ordeal, Brodie has since been released from hospital and is continuing his recovery at home.
"He has had the fright of his life," said Lynn.
"I now pray he is going to turn his life around, He will never be so lucky again."
Now Lynn is warning other parents to do all they can to make their children fully aware of the dangers of drug taking.
Posting a picture on Facebook of her son in a hospital bed, Lynn wrote:  "Please please warn your kids to say no to drugs.
"Make them aware drug dealers don't care what there cutting their drugs with as long as they are getting money.
"They have no morals, they are scum that's why we need to try and protect our children."