Ahead of a new TV documentary series following Scotland's paramedics, a Fife mum tells Michael Alexander how her half-drowned son was saved by the 'unsung heroes' of the Scottish Ambulance Service, while Scotland's Charity Air Ambulance, based at Perth, gives an insight into its life-saving role.
When Fife mum Laura Cuthbert travelled to a remote location in the west of Scotland with her then three-year-old son Felix in August 2018, it was supposed to be an enjoyable late summer break visiting a friend.
But on the second day, rest and relaxation turned into a nightmare when her son, who has severe autism and needs a lot of supervision, got out of the house, wandered off and was found floating face down and unconscious in a nearby loch.
"I was in the kitchen and he was literally in the next room playing with his alphabet or something when it happened," Laura, of Rosyth, told The Courier.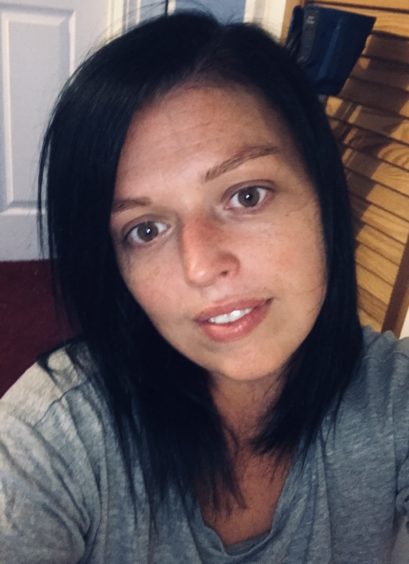 "I walked into the kitchen. I hadn't even sat down. I had three bites of a bacon roll, walked back in, and he'd gone.
"I had panic in my gut as his mother, thinking 'there's something not right here'.
"We were running around like mad looking for him and my friend spotted him face down – saw his nappy floating – and pulled him out of the water.
"I heard her scream 'get an ambulance'. I ran over, took him off her, looked at him, and screamed 'no!'
"Out of nowhere I started doing CPR. I've never done CPR before. I think it was a mother's instinct. I was like 'I'm not losing my son!'"
Rasping and with water spewing from his mouth, Laura did what she could to keep him breathing until paramedics arrived.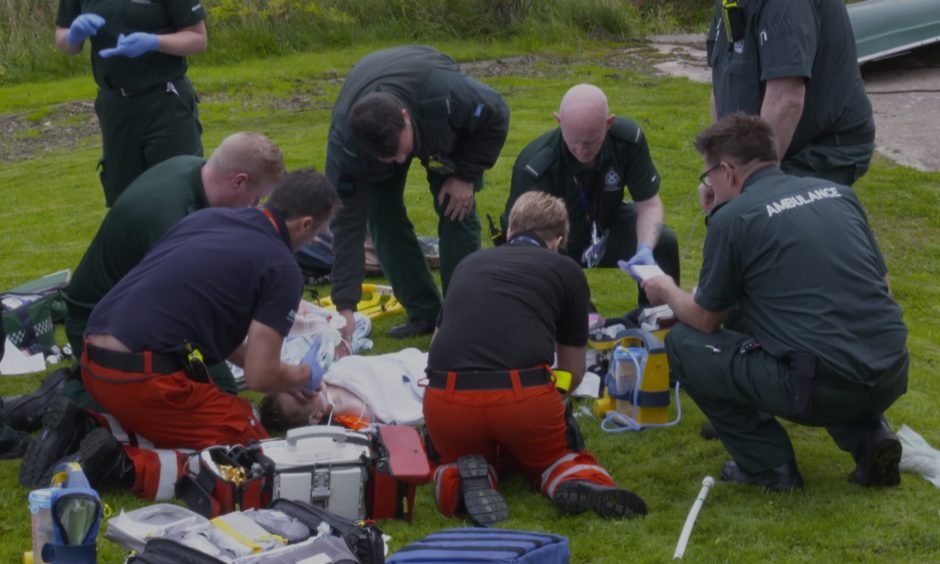 By chance, a special operations team and paediatric specialist were training in a nearby East Renfrewshire village and, hearing the 999 call on their radio, abandoned what they were doing and got there 20 minutes before the en route ambulance crew would have arrived.
Rushed to hospital in Glasgow, Felix was put into an induced coma.
Despite initial fears of brain damage, he has recovered well and, having just turned five and started school in Rosyth, his mum thinks there has even been some improvement with regard to his autism.
Speaking ahead of the dramatic incident being featured in the first part of new TV documentary 'Paramedics on Scene' on Sunday September 29, Dublin-born Laura, who works as a customer consultant at the Yorkshire Building Society in Dunfermline, said she can't praise highly enough the "unsung heroes" of the Scottish Ambulance Service and wider NHS who saved her son's life.
"The way these paramedics did their job was like something you'd see in a film – it was unbelievable the way they swooped in," said Laura.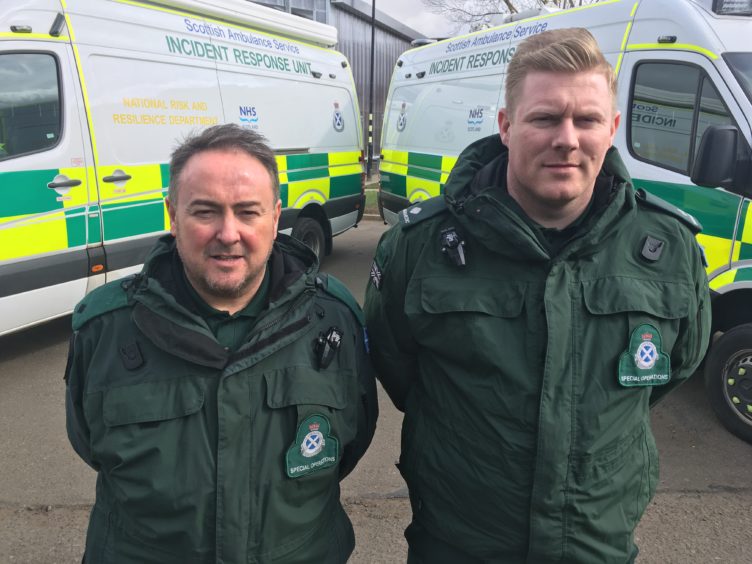 "How they worked together as a team was unbelievable. They were just so in-sync. The staff at the hospital in Glasgow were also absolutely amazing. I can't put it into words. These people are not given enough credit. They are phenomenal. They are such unsung heroes. And they care as people. We were so blessed."
The Scottish Ambulance Service serves over five million people – from remote islands to busy cities.
With unprecedented access, the 10-part Paramedics on Scene series captures their life-saving work as they respond to emergencies.
Each episode features extraordinary stories, with the cameras following divisional ambulances responding to high-pressure 999 calls, 24 hours a day.
The cameras also followed the Special Operations Response Team (SORT) to the most extreme emergencies – including major car crashes.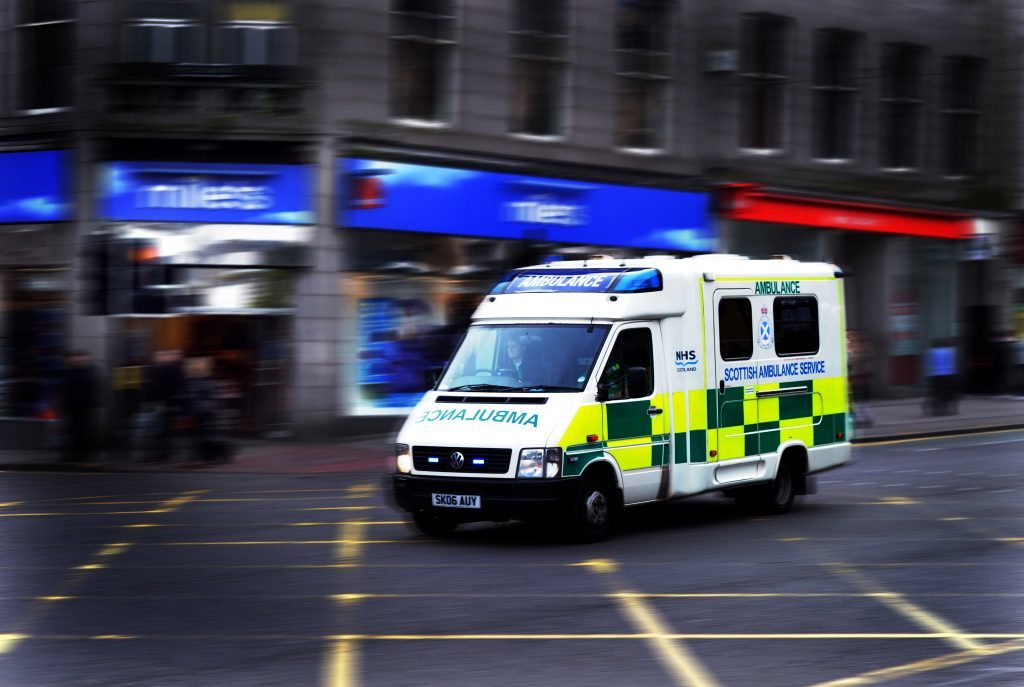 In the second episode, to be screened on Sunday October 6, the Perth Airport-based Scotland's Charity Air Ambulance (SCAA) is featured responding to a quad bike injury on a wild hillside in Highland Perthshire while, in the third episode, it responds to an incident on Mull when a man fixing a wind turbine is injured in a nasty fall.
John Pritchard, lead ambulance paramedic for SCAA's Helimed 76, told The Courier it was the "luck of the draw" what high-stakes incidents occured when the TV crews joined them.
The Birmingham-born 50-year-old, who was a land-based paramedic in Crieff for 17 years before joining the air ambulance when it launched in May 2013, said: "In the first incident, some stalker guys were out on a shoot when unfortunately one of the quad bikes overturns injuring one of the party's backs.
"This was in a completely remote site with no vehicular access other than quad bike.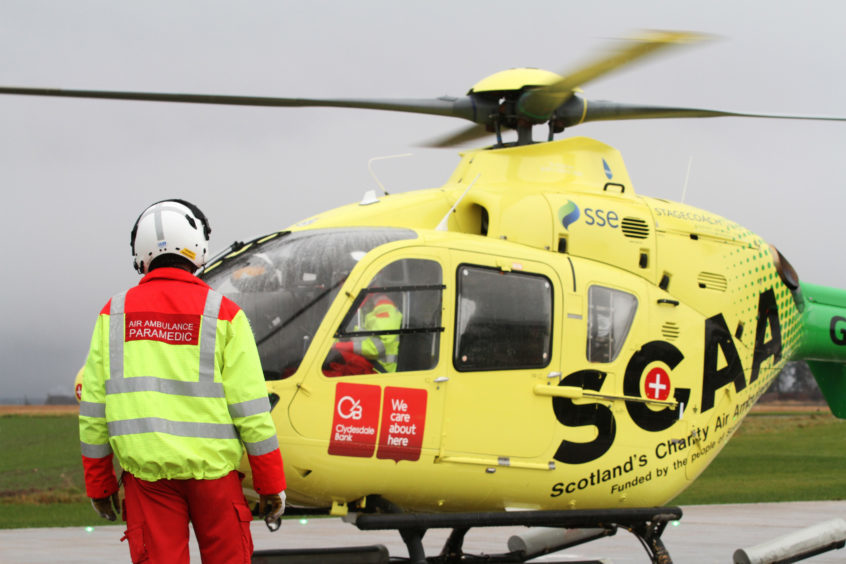 "The challenge for the ambulance service and police was to get us to the patient.
"The quickest means for us was a 15-minute flight to the Griffin Forest area, to land and deliver care then transfer that chap to Ninewells.
"The ambulance from Pitlochry could have gone. But they'd have still faced a mile walk up the side of the hill. That's where we come in."
Costing £6 million per year to run, and covering the whole of Scotland, SCAA is a fully-integrated part of the Scottish Ambulance Service and has been involved in over 2000 call-outs since its formation six years ago.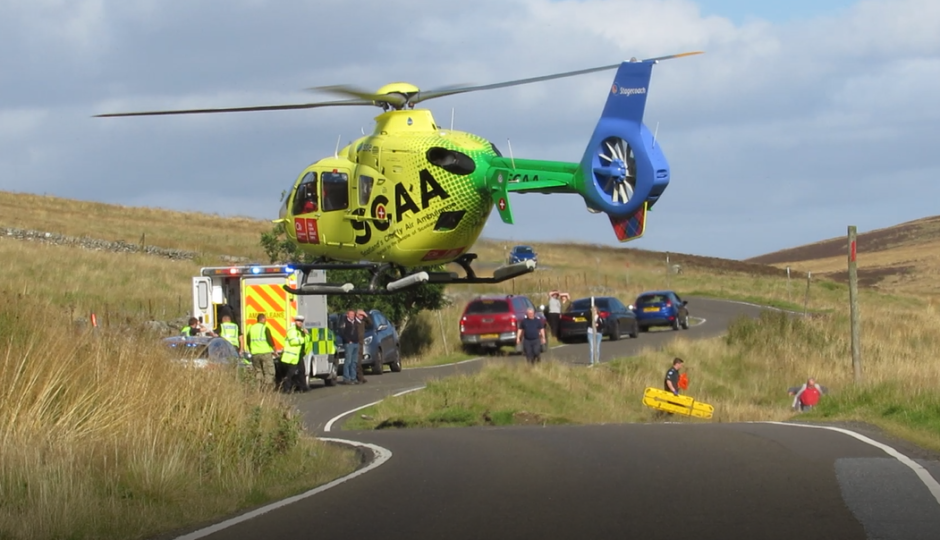 It operates alongside two funded by the Scottish Government in Glasgow and Inverness.
Last year the SCAA announced its hope to launch a new Aberdeen-based service by late 2019 when Helimed 79 will join its Perth stablemate.
· The first episode of Paramedics on Scene airs on Sunday September 29 at 9pm on BBC Scotland.