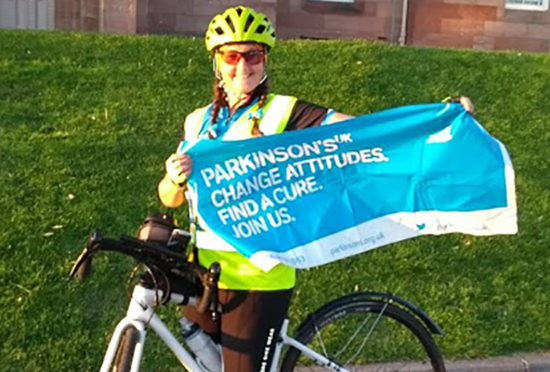 A brave grandmother is within touching distance of the finishing line of a gruelling, mammoth challenge.
Janet Kerr is 40 weeks into her incredible task of marking her 50th birthday by completing 50 miles of cycling, swimming, scootering or skating in each of 50 weeks of this year.
The former teacher from Lochgelly decided to take on the task despite being diagnosed with Parkinson's three years ago.
She is using her year of challenges to raise funds for Parkinson's UK, a charity with which Janet and husband Gary have formed a strong bond.
She has already smashed her modest target of £500 by nearly seven times.
Janet's symptoms are so severe she lives in almost constant pain and has to avoiding walking whenever possible, making her solo completion of the North Coast 500 route, by bike, all the more remarkable.
Starting and ending in Inverness, she was on the road for nine days.
She said: "Without a shadow of doubt, it's been the hardest physical challenge I've ever done.
"Having Parkinson's can look like an invisible disability but how it impacts on me is that my right side is affected.
"It could be compared to having a stroke – there is a lack of power in my right leg and hand/arm, a nothingness.
"My main symptom is chronic pain, but it's something I've learned to live with and manage as best I can but the additional pain of the challenge itself took me to a whole new threshold."
She said she would never have embarked on such a challenge if it were not for the disease.
"Just because I have Parkinson's, it doesn't mean the end.
"This was a celebration of being alive and a mantra that I had to repeat to get me through the challenge, although I had a blip now and again."
She depended on strangers to help with practical tasks – like helping her get on her shoes – and said the support and kindness of everyone, from those strangers to her family and friends, had been overwhelming.
"It was tough going through some atrocious weather and many times I could hardly see through a mixture of rain and tears."
Parkinson's UK regional fundraiser Emma Hall added: "We've got to know how tenacious Janet can be and we're absolutely thrilled that she made it through this particular challenge.
"Janet is inspirational and her determination to live life to the full is admired and appreciated by everyone in the Parkinson's community in Scotland."