As Fife's leading commercial radio station Kingdom FM celebrates its 21st anniversary on Saturday October 5, Michael Alexander speaks to some of today's team about the secret of its success.
Dave Connor was one of the first presenters when Kingdom FM launched at Haig House, Markinch, on October 5, 1998.
As a fresh-faced teenager straight from the then HNC in radio broadcasting course at Glenrothes College, the born and bred Fifer went on to work for radio stations up and down the country including Dundee's Wave and Tay FM, Forth FM and Original 106 in Aberdeen.
However, since returning "home" to Kingdom FM where he is now station controller and one half of the award-winning Dave and Vanessa breakfast show, the Markinch-raised former Auchmuty High School pupil has truly come to appreciate that where the station "wins" is through its localness at the heart of Fife's communities.
"To me this is the big thing for Kingdom," he said.
"Because there's so much networking in radio now – where stations like Tay and Northsound can share all own programming – where we can really win is still having that local connection: local voices.
"Me and Vanessa are both from area. Every day you hear people talk about the place where they live. I think that's really important in radio because so many people are not doing it."
Dave laughs when he thinks back to the early days when station founder George Macintosh insisted that everyone on air should wear a shirt and tie because, he claimed, listeners could "hear the tie"!
Kingdom was also the first station to run all of its play-outs from computer from day one – the only issue being that with all the equipment being French, problems had to be rectified with calls to France in "pigeon French", added Dave.
But while technology has changed dramatically during those years whether through the rise of social media, Spotify or live web-streaming, radio continues to hold its own with the intimacy of broadcasting often leading the public to treat Kingdom presenters "like friends".
Kingdom FM's head of music Vanessa Motion, who was on the same college course as Dave and now hosts the breakfast show with him, remembers the "massive deal" of Fife getting its own radio station at a time when listeners had a choice of Forth and Tay FM – but usually weren't represented.
The Markinch-raised DJ, who has also worked for stations all over the country, got drafted in to work full-time at Kingdom during the bad winter of 2010/11 because everyone else was snowed in.
Through engaging with Fifers on air and hosting the highly successful annual Kingdom FM Local Hero Award  -supported by The Courier – each August, she has long since realised how important it is to "give a voice" to the people of Fife.
"With the breakfast show, it's just about 'bigging up' Fife and 'bigging up' the people in Fife- where we can have a point in the morning to pick ourselves up and get on with the day really," said Vanessa.
"I also love the annual awards ceremony. It's humbling to highlight the things people have done, to give something back to the community. We just want to shout about the public, shout about Fife and say 'you're great' and be proud of what we do!"
Kingdom FM head of commercial Barry Snedden grew up in Burntisland and moved to Glenrothes as a teenager.
After establishing a chip shop in Ballingry aged 16, the young entrepreneur did work experience at Kingdom while studying radio at college before landing a job on the newsdesk doing traffic and travel.
He started full time with Kingdom in 2002 and was on air for 15 years at various stations before embarking on his current role.
Fife was "screaming out" for its own radio representation, he said, and this has been borne out by the station's popularity supporting community events in the decades since.
A highly significant development came in March 2019 when Kingdom FM, which had always been independent and now broadcasts from Kirkcaldy, was acquired by Dundee-based Courier publisher DC Thomson Media alongside Aberdeenshire-based Original 106.
This added to existing DC Thomson Media radio interests following the purchase of Dundee's Wave FM in 2017.
The move means that DC Thomson Media's radio reach now tops 150,000 listeners, stretching from Aberdeenshire to Fife – including around 50,000 at Kingdom.
Adam Findlay, 46, the former managing director and owner of Original who joined DCT Media as head of radio in April, said the "magic of radio" is the connectivity and the "mystery" of what's going on behind the speakers.
"I think one of the exciting things about Kingdom FM is that it can absolutely own the area of Fife," he said.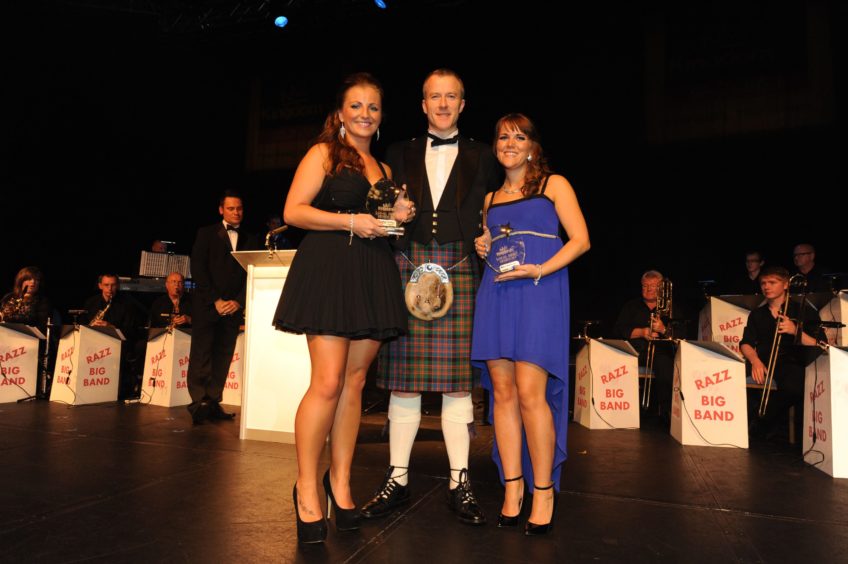 The Courier's then Fife chief reporter Michael Alexander presented an award to Kirsty Yeoman and Kelly Owens on stage at the 2013 Kingdom FM Local Hero Awards.
"Anything else that can be heard in Fife does not have the same connections with Fife.
"Kingdom has the unique opportunity of engaging with its audiences on a local level that no one else can achieve.
"It does it very successfully.
"In the past it has enjoyed record audiences and is in a very healthy place right now.
"With the arrival of DC Thomson Media, it's going to allow that station to achieve more and make more connectivity – to enhance the relationship it already enjoys with its listeners.
"It also allows DC Thomson to enjoy a relationship with its readers and audiences it's not been able to do before through broadcast, print and digital platforms."
It's been quite a journey since the original idea for Kingdom FM was formulated at a meeting in the former Parkway Hotel in Kirkcaldy in early 1996 when well-known mobile disco operator and award-winning hospital radio broadcaster John Murray met with his old radio boss George Macintosh.
The predecessor to Ofcom, the Radio Authority had just offered a licence for the Kingdom of Fife and so on this first meeting they formed Kingdom FM.
The station name was chosen immediately and the meetings that followed formed a board of directors with only a mailing address at Coal Road, Cupar.  John Purvis MEP was next to join.
In parallel to the licence being awarded and the station being launched, the charity Kingdom Kids was launched to help young people in Fife.
John is still the chairman of Kingdom Kids, and as they too celebrate their 21st birthday, he is delighted that dynamic new trustees will soon be announced under the guidance of DCT Media.