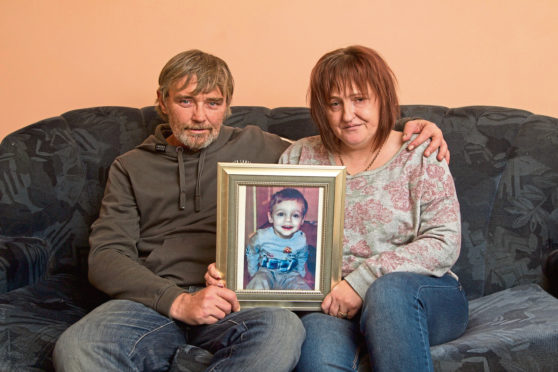 The response of an out-of-hours NHS helpline to calls of concern for an Angus four-year-old will be at the centre of a fatal accident inquiry into the youngster's death.
Leylan Forte, who suffered from cerebral palsy, died in April 2015 from dehydration, gastroenteritis and norovirus after falling ill at his Montrose home during a weekend.
The circumstances of the tragedy will be considered in an inquiry expected to be held early in the new year, which is also set to look at information-sharing between GP practices and medical helpline NHS 24.
A preliminary hearing in the FAI took place in Forfar Sheriff Court on Thursday.
Leylan's father, Wayne Forte, will be represented at the inquiry, but the youngster's mother, Leanne Smith, has since passed away.
The FAI will also include representation for NHS 24 and Dr Monica Ireland of the Annat Bank practice in Montrose, who attended at the family home.
Leylan's parents previously said they believed a delay in an ambulance being sent out contributed to their son's death.
The infant died on April 27 2015 after his parents had called NHS 24 several times over the weekend preceding his death, but say they were repeatedly told a doctor would not be sent out.
Dr Ireland then attended and an ambulance was summoned.
However, Leylan died in the emergency vehicle outside the family's Garrison Road home.
NHS Tayside subsequently carried out a significant analysis into the tragedy and the Forfar preliminary hearing heard the NHS 24 responses and systematic issues surrounding the sharing of information are likely to be the key areas of the FAI.
Sheriff Jillian Martin-Brown was told a significant amount of evidence in the inquiry, including that of paramedics and nurses, was considered capable of agreement in advance.
The post mortem evidence of a pathologist based at Queen Elizabeth Hospital in Glasgow will also be considered.
The sheriff said she wanted to be sure that if the inquiry was also looking into the actions of Dr Ireland, then information relating to that should be available.
Counsel for NHS 24 has also said it is essential GP records in the case are available to the inquiry.
It is likely the full hearing, expected to last a number of days, will be held in Dundee.
A further preliminary hearing was scheduled for December 13 at Forfar Sheriff Court.