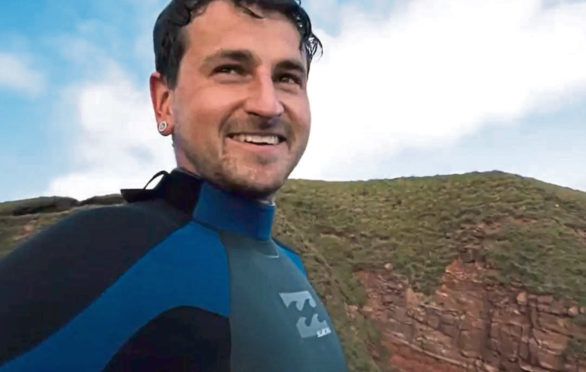 Lifesaving services and a safety charity have spoken out about the dangers of leaping into the unknown after an Angus adrenaline junkie made a splash online with his cliff-diving videos.
Lee Mitchell, 27, a joiner from Arbroath, has been leaping from cliff tops since he was just 14 years old.
The clips, which show him taking leaps and backflips off the Arbroath cliffs, have earned him thousands of views on Facebook, as well as almost 1,000 followers on his Instagram account.
So here it is!!?This is the craziest / scariest stunts I've done to date, taken 4 new tricks to higher heights!The doubles are 27ft, and the gainer is 51ft!?Cheers to Kyle Skelly & Arryn Skelly for the awesome video!! And Scott Moreland for being the life guard keeping me safe!??

Posted by Lee Mitchell on Wednesday, 6 November 2019
The dad-of-one has perfected his techniques through years of practising his flips on trampolines, BMXs and while snowboarding.
But HM Coastguard, the RNLI and thr Royal Society for the Prevention of Accidents (RoSPA) have all warned of the dangers of what may lie beneath the waves.
A spokesman for HM Coastguard said jumping from cliffs, rocks or other structures into the sea can be very dangerous.
He said: "From 2010-2016 there were 16 deaths and 50 serious injuries caused by tombstoning.
"The depth of the water can dramatically change with the tide, and what was a deep pool at lunchtime might be a shallow puddle by teatime.
"You don't know what hazards may be lurking under the surface until you are hurt or worse.
"If you do want to jump from height into the sea we would advise people join a coasteering group with a professional and reputable adventure centre."
A spokesman for the RNLI said: "We would advise anyone undertaking such activities do so having gained the relevant training and experience at licensed activity centres to ensure they are suitably skilled and trained.
"The coastlines around the UK and Ireland are unpredictable.
"Particular care and attention is required given the varying water depths and rocks lurking under the waterline."
David Walker, the Royal Society for the Prevention of Accidents (RoSPA) leisure safety manager, said it is important to consider the dangers "before you take the plunge into the unknown".
"Strong currents can rapidly sweep people away and the shock of cold water can make it difficult to swim."
Mr Mitchell started diving aged 14 after seeing others diving off the cliffs.
He said: "Safety is obviously the number one priority.
"I go out into the water a lot before I jump to check it's deep enough and safe for me to dive in to.
"I used to go out in my kayak with a ruler to measure the depth, sometimes I still do.
"I tend to stick to the Arbroath cliffs as well, since I know the area.
"I know where it's safe to jump and swim, and I only ever jump at high tide. If you jump at low tide you'll have problems.
"When you first start out, make sure you're totally safe and know what you're doing.
"You need to start low and work your way up, get some practice first.
"You'd much rather make a mistake on a 27 foot cliff than a 50 foot one."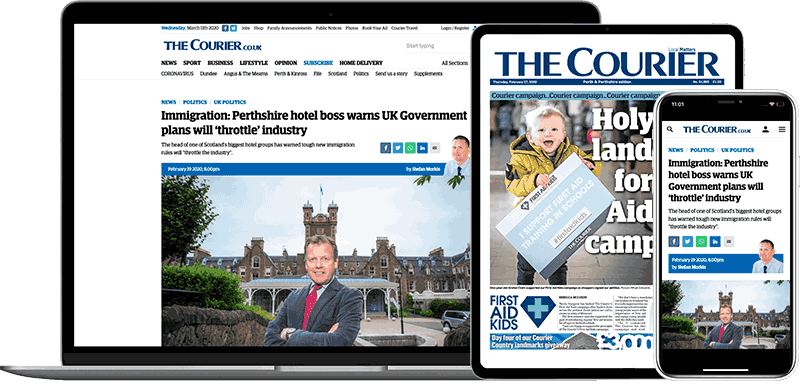 Help support quality local journalism … become a digital subscriber to The Courier
For as little as £5.99 a month you can access all of our content, including Premium articles.
Subscribe