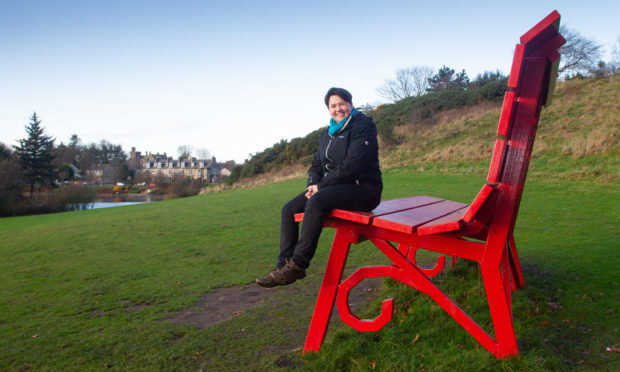 Former Scottish Conservative leader Ruth Davidson said she would take a "never say never again" position on re-entering politics once she steps down in May 2021.
Speaking to The Courier on a recent visit to Angus, Ms Davidson said she missed making the decisions which directed the party, but not all of the other aspects of being the front and centre of Scotland's second largest party, especially during election times.
The Fife-educated MSP announced she was stepping down earlier this year but has still campaigned at the forefront during the general election campaign – including in Angus where the latest polls suggest there is only 1% separating the SNP candidate Dave Doogan and the Tory's Kirstene Hair ahead of Thursday's vote.
Speaking of Ms Hair, she said it was important constituencies had MPs which "emulate the place they live", adding she was young, articulate and someone who had "taken on the government".
Having a young child had not shifted her politics, she added, but the Scottish Conservatives had always been a different beast from the main UK party through its history of Liberal Unionism.
Ms Davidson was criticised heavily after she was given a role with Tulchan Communications which would have paid £50,000 for 25 days' work a year while still an MSP. She has since turned down the job.
When asked if she had plans to return to frontline politics, Ms Davidson said: "Never say never again. And I mean, I've been quite clear that I'm going to fulfil my responsibilities to the constituency and also to the party.
"Jen and I have talked before publicly about wanting another child and I think that I certainly wouldn't be making any long term decisions. You know, obviously I'll have to get another job – something that's a bit more normal hours, because even backbench MPs have evening events they've got to go to, they've got the work weekends, you're on call tonight.
"I think it'll be something a bit more normal hours until the kids get to primary school. So, you know, five or six years, I may not want to come back and be desperate to come back."
Angus Lib Dem candidate Ben Lawrie has written to Ms Hair calling on her to rule out supporting no-deal Brexit.
He said: "You have said you are prepared to sign up to Boris Johnson's deal, despite his decision to abandon legal commitments to maintain alignment with EU regulation protecting the environment and workers' rights, and the significant additional burdens it places on businesses trading with the EU. However, given the commitments in your manifesto not to extend the negotiation deadline, it now appears you are also content to see the UK crash out of the EU without a deal. You and I both know that this is unacceptable.
"So, I am asking you to unequivocally reject a no-deal Brexit and to commit to not voting for any plan that would allow the continued risk of such severe economic damage to Angus.
SNP candidate Dave Doogan last week wrote to Labour voters, asking for their vote to help "keep the Tories out" of Angus.