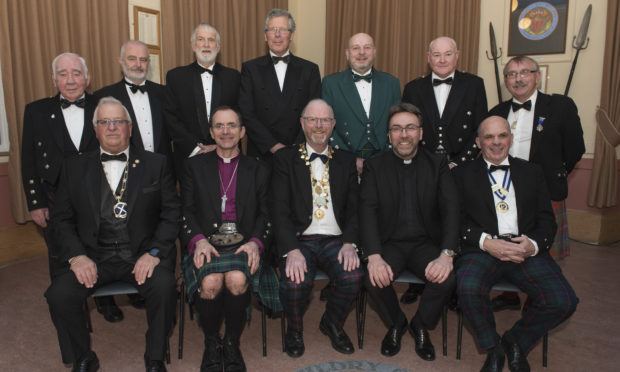 The Guildrymen of modern-day Brechin have been encouraged to lend their support to the town's historic Cathedral on the eve of its milestone anniversary.
As the 2020 800th anniversary of the building looms large, the question mark hanging over its future was considered at the annual end-of-year-dinner of the Guildry Incorporation of Brechin in the nearby Mechanics Institute.
Among the toasts given to the company of 66 Guildrymen and their guests was one by Edzell kirk minister Rev Wayne Pearce, in support of the city and trades of Brechin, which included the plea to support the cathedral.
Dean of Guild David Robinson, welcomed the company and the toast to the Guildry was given by the Rt Rev Andrew Swift, Bishop of Brechin.
Mr Gary Johnston proposed the toast to the guests, with a response by Commander Jim Smith RN Retd.
The final toast of the evening to The Dean was proposed by Mr David Howson, immediate past Dean.
What became The Guildry Incorporation of Brechin was formed in 1629 by "a number of merchants and maltmen" within the Burgh, who voluntarily organised themselves as a Society "to advance the interests of merchandising."
In the spring of 1645, the Royalists' leader, the Marquis of Montrose, and his troops occupied Brechin, plundered the city, and burned half of it to the ground.
Within two years, Brechin was plunged into the horrors of the "noisome plague of pestilence" when perhaps two-thirds of all its inhabitants perished.
Through those turbulent times, the Merchants' Society survived and even flourished, with the appointment of John Spence, the first Clerk to the Guildry, in 1658.
Entry to the Guildry then cost the son of a Guildryman one merk, (13s 4d), and if a merchant married the daughter of a Guildryman, the entry fee was four pounds Scots, but strangers were to pay "ten pounds Scots at least".
The body became an Incorporation in 1666, holding its first court a few years' later under first Dean of Guild, David Donaldson the elder.
The Guildry operated a complete monopoly for the next 180 years, until, in 1846, an Act was passed "for the Abolition of the Exclusive Privilege of trading in Scotland".
It celebrated its 350th Anniversary in 2016 and although the Guildry's ancient functions have lapsed, it continues to take its active role in the civic and social life of the community.
That includes making annual travel awards to young people, which in 2019 helped a young sportsman win a bronze medal in the World Junior Curling championship in Nova Scotia, and a student from Brechin High School who attended the Ridgway School of Adventure in Sutherland.