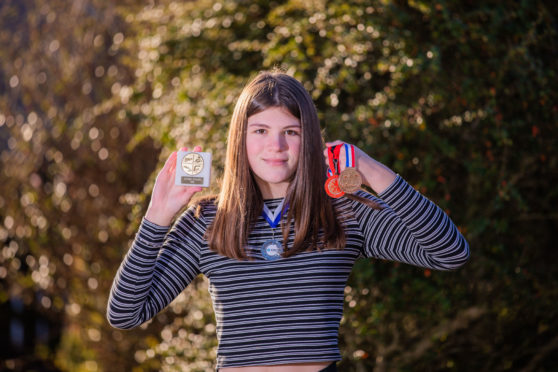 A young Angus swimming star has returned to winning ways in a comeback from major spinal surgery she hopes will inspire others on the route to recovery.
Just over a year ago, Gabby Winton from Montrose underwent spinal fusion surgery at the Royal Sick Children's Hospital in Edinburgh to correct a curvature of her spine after being diagnosed with adolescent idiopathic scoliosis.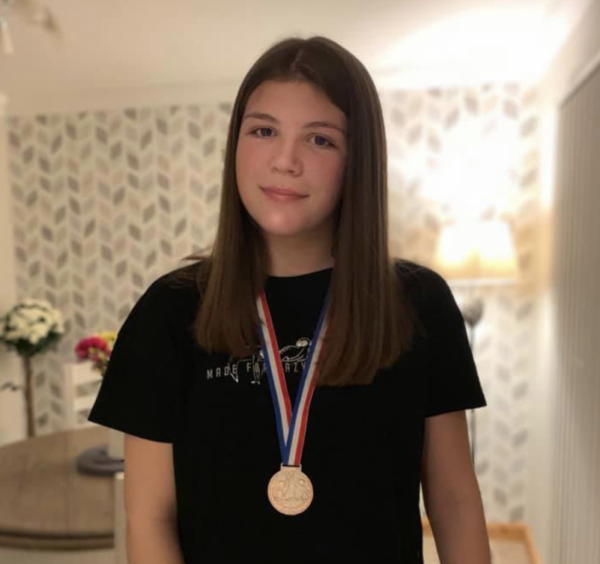 It was a friend's comment on her shape which alerted the Montrose Academy pupil to the condition in the nick of time, with her family told had the condition been picked up six months later, Gabby might never have swum competitively again.
However, spurred on by goodwill messages from Scots pool sensation Hannah Miley and Australian Olympian Jessica Ashwood – who had the same condition – Arbroath St Thomas swimmer Gabby hit her target of returning to the pool last summer and is now back among the medals.
Her mum Angela, said: "The spine was curving to the right; if we didn't get it fixed, there would have been a compensatory curve at the base of the back which goes the other way.
"They would then have had to operate at the base of the spine and she would have lost all flexibility. We just caught it in time.
"Gabby was told she couldn't do anything for seven months but the club had a training camp in Lanzarote in July and she made that her goal.
"She managed to go there and the coaches were fantastic with her. Obviously she started back slowly but the club were fantastic with her and she started to build things back up again."
The teenager's talent and determination shone through at Dundee City Aquatics' October meeting, where 14-year-old Gabby powered her way to five new personal bests and a breaststroke bronze medal.
Further end of year gala successes followed, including swims alongside her St Thomas teammates in her home pool at Montrose to help the club to Midlands district league success.
"Everyone at the club and her school have been fantastic and we are just so delighted with her progress.
"She really missed her swimming and was worried about whether she would swim competitively again but Gabby did exactly what the doctors advised her and it has been a textbook recovery.
"This is an important story to tell as it's so easy to miss, yet it is so common in girls this age.
"Hopefully her story might also have a positive effect on anyone else going through the same thing," added Angela.
The family's gratitude to the Edinburgh surgeons was also shown with the donation of £2,400 which Angela and husband, Simon raised through their participation in the city Kiltwalk.
The Queen's granddaughter, Princess Eugenie, underwent similar surgery at the age of 12 and at her wedding in 2018 wore a dress that showed her scar, saying she hoped it would honour those who had helped her and inspire others with the condition.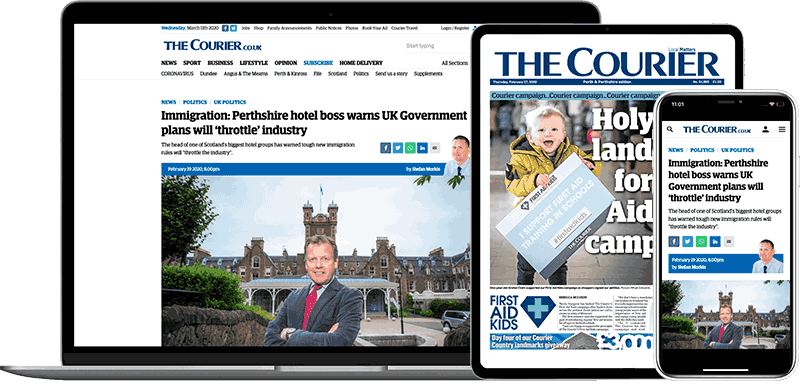 Help support quality local journalism … become a digital subscriber to The Courier
For as little as £5.99 a month you can access all of our content, including Premium articles.
Subscribe