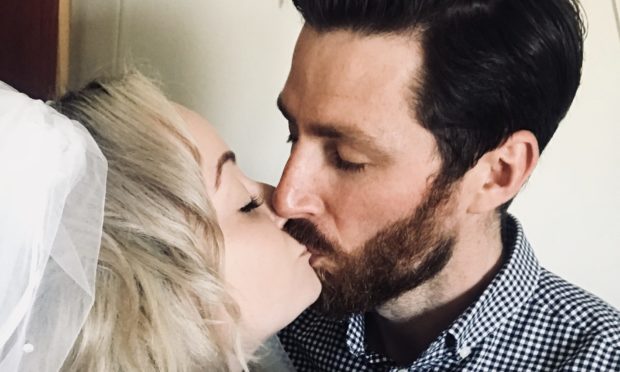 An Arbroath bride-to-be hosted a "zoom wedding" to get over the disappointment of her big day being postponed.
Danielle Paton, 30, was due to marry landscaper Richard Strang, 36, in St Vigeans Church in the Angus town on Saturday but was forced to postpone the ceremony until next January as the pandemic worsened.
The Arbroath-born florist is one of the hundreds of brides to miss out this spring as lockdown restrictions led to a spate of cancelled and postponed ceremonies.
Rather than be downhearted about the big day that never was, the couple held their own celebrations, complete with a dress, cutting the cake and friends and family appearing via online meeting service Zoom.
"I just wanted to put on a white dress and a veil and look nice. We both wanted to look good and took the day as it came," said Danielle.
"It's not all doom and gloom for brides and grooms. You can still make your day special and share it with loved ones."
The couple, who live in Lochgelly in Fife, dressed up in smart clothes and went for a walk on the nearby golf course.
They returned home for a barbeque but rather than throngs of guests, their brown Sprocker Spaniel Bailey was their only companion.
The betrothed cut their strawberry and cream cake as ten so members of their friends and family joined them virtually for a glass of fizz.
"We were overwhelmed by the amount of support from friends and family. It was so nice to know they were thinking about us," Danielle added.
"Our neighbour put out wedding bunting and they put a bottle of fizz at the bottom of the garden."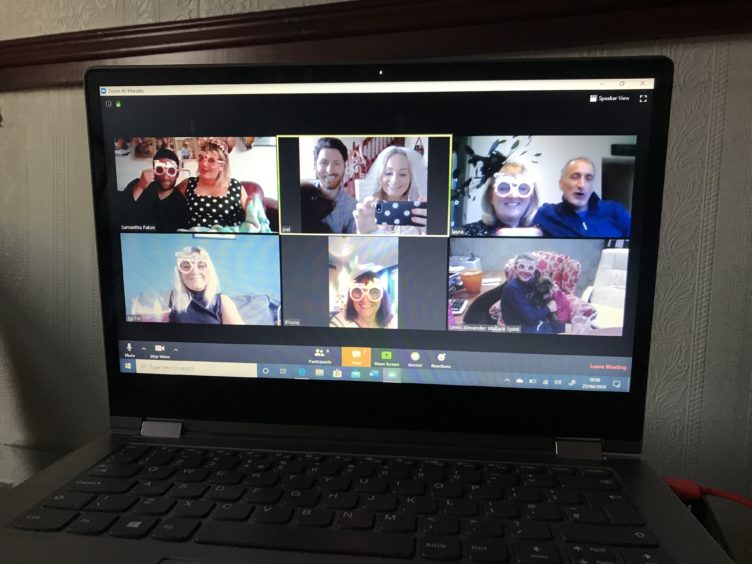 The pair recorded the whole day and put it on social media site Instagram.
"We wanted to document it for everyone who couldn't be there."
Moving the day had been an emotional experience, Danielle explained, but having something to look forward to helped her deal with any lingering negative feelings.
"It was a difficult decision to make but it had to be done.
"I have had my moments. I have been quite sad about it but the decision was taken out of our hands. It had been months of planning and we had been engaged for a year and a half.
"But let the world heal first and hopefully all our friends are safe and healthy when we come out of the other side of this."