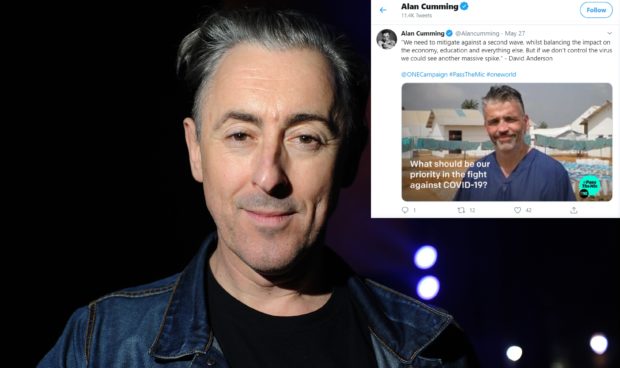 A Montrose-born nurse was handed the keys to Hollywood star Alan Cumming's social media channels as part of a campaign to give a voice to those on the frontline.
X-Men star Cumming, 55, who was also born locally in Aberfedly, gave David Anderson control of his Twitter and Instagram account for the Pass The Mic effort.
The promotion is being led by anti-poverty group the ONE Campaign, giving frontline health workers and economic experts a platform to discuss the global response to the coronavirus pandemic
It's an honor to #passthemic to David Anderson @DMA7269 Nurse, Dir. of Quality at @NHSuk Nightingale Hospital & Humanitarian Health Advisor with @UKMed_NGO From the Ebola crisis to #COVID19, he'll share what he's learned on the frontlines. @ONECampaign #PassTheMic #oneworld pic.twitter.com/dHDweRqpLG

— Alan Cumming (@Alancumming) May 27, 2020
Mr Anderson, an emergency medical nurse, works with humanitarian charity UK-Med and returned to Britain two months ago following a stint in South Africa helping shape the country's response to Covid-19.
He is currently working as director of quality and infection prevention and control at the NHS Nightingale Hospital in Manchester.
He told Cummings' almost 300,000 followers that a global coordinated approach is "the only way" to stop the spread of a deadly virus.
The 51-year-old said: "We need to mitigate against a second wave, whilst balancing the impact on the economy, education and everything else.
"But if we don't control the virus we could see another massive spike.
"The world needs to work together and share all our expertise to contain this.
"No matter whether you are South African, from New Zealand, Australia, Ghana, or Serbia, this germ does not respect borders.
"This disease does not suddenly get to the border between France and Germany and go 'I'm not crossing there'. If we don't help each other then this is not going to go away."
Despite his warnings, he added he believes the pandemic shows how a crisis can "inspire people to come together".
UK Government International Development Secretary Anne-Marie Trevelyan praised Mr Anderson for his contribution.
She said: "I am proud that brave EMT medics like David are using the expertise and experience gained from responding to humanitarian crises around the world, to help our NHS in the fight against coronavirus.
"The UK Government has so far pledged £764million of UK aid to help end the pandemic sooner, find a vaccine and save lives around the world, including in the UK."
One is a global movement campaigning to end extreme poverty and preventable disease by 2030.
It was co-founded by Bono and other activists and is funded almost entirely by foundations, individual philanthropists and corporate partners.
Other stars to have given a platform to medics as part of Pass The Mic include actors Hugh Jackman, Julia Roberts, Penelope Cruz, and Sarah Jessica Parker.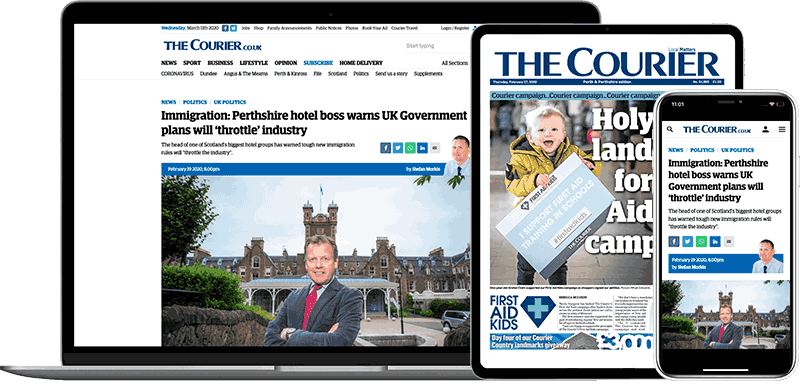 Help support quality local journalism … become a digital subscriber to The Courier
For as little as £5.99 a month you can access all of our content, including Premium articles.
Subscribe