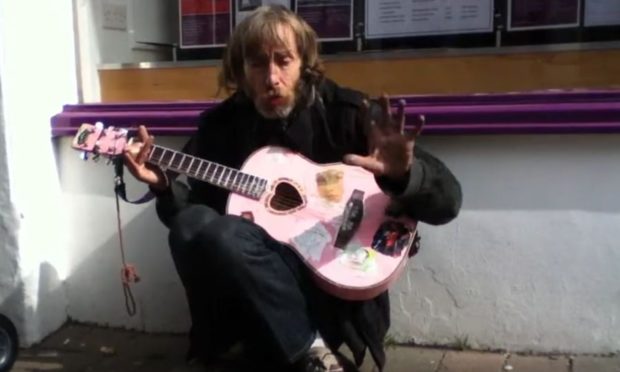 A wannabe James Bond has discovered he isn't such a special agent after an Angus sheriff issued a warrant for his arrest.
The Arbroath busker, known as Left Hand Luke, had been due to appear in the dock at Forfar for sentencing on a fake firearm charge, but sent a message to the court saying he wasn't planning to attend.
The failure to turn up made the 60-year-old accused – real name Stephen Chipperfield – a villain in the eyes of Sheriff Derek Reekie.
Police will now be tracking down the "unique character" who told a mum and daughter they had encountered 007 as he waved a toy gun around in a local park.
Chipperfield is a well-known street entertainer in Arbroath but was arrested in August after the alarming incident in the town's Sycamore Park.
The mum and daughter were walking in the area around 1pm when "dirty looking" Left Hand Luke brandished the weapon in front of them.
He told the pair he was licensed to carry a gun because he was with MI6, adding: "Now you can say you've met the real James Bond – we don't always wear tuxedos."
Chipperfield walked away from them, but continued to face the women and the concerned pair then contacted police, instigating a significant response to what was classed as a live firearm incident.
When officers arrived at his home in Arbroath's Bloomfield Road later that evening, Chipperfield directed them to the pistol on his bedside table.
The court had earlier been told the property included other weapons such as model harpoons and machine guns.
Last month, a sheriff deferred sentence in the case to get a background report on Chipperfield, saying he also wanted to see the gun to determine how realistic it looked.
Chipperfield had admitted having the fake firearm and brandishing it in Arbroath on August 2.
The black weapon was available for inspection by Sheriff Reekie on Thursday – but the accused did not turn up.
Chipperfield's solicitor, Billy Rennie said a message had been relayed to his office by a neighbour of the accused saying "he wasn't attending court, sorry."
Mr Rennie added: "Mr Chipperfield is a somewhat unique character. He doesn't have the worst record.
"The message relayed by a neighbour didn't indicate otherwise what the reason was for not being here," he said.
Noting Chipperfield was on bail, Sheriff Reekie issued the arrest warrant, commenting: "There is no acceptable reason for him not being here, apart from a conscious choice."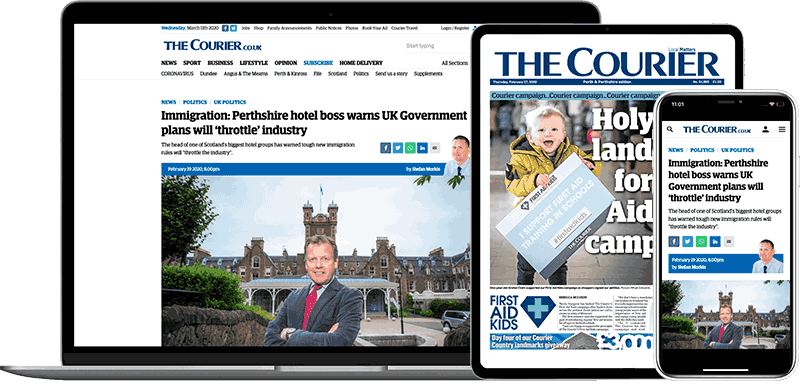 Help support quality local journalism … become a digital subscriber to The Courier
For as little as £5.99 a month you can access all of our content, including Premium articles.
Subscribe