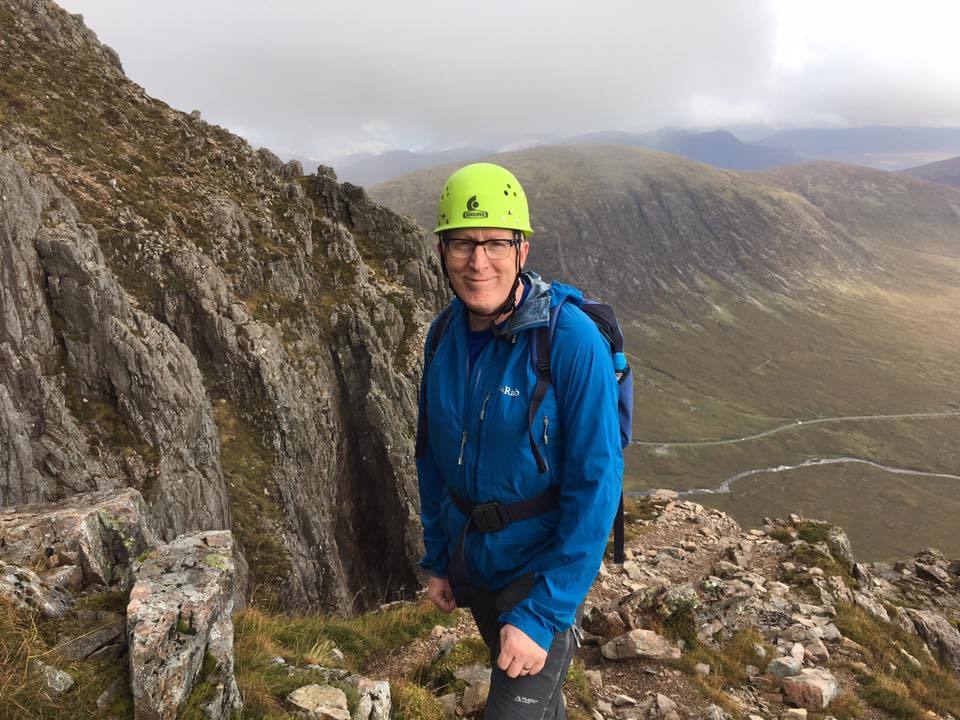 An Angus minister has turned Bear Grylls to embark on a "heart in mouth" rock climb to promote the Christian faith.
Rev Martin Fair from St Andrew's Church in Arbroath admitted the "huge drops" and "steep cliffs" were a test of his nerve.
He scaled the cliffs of Buachaille Etive Mhor in Glencoe with some friends from the congregation and said it was "genuinely an adventure getting to the top".
The group unfurled a banner at the top which features TV adventurer Bear Grylls who is the public face of Alpha which is being launched by churches across the globe.
Mr Fair said: "We will soon be launching the Alpha course as a means of asking questions about life and what really matters.
"This year we're hosting it in The Townhouse in Arbroath and Alpha's global advertising campaign features Bear Grylls and the strap line: 'My greatest adventure'.
"To have some fun with that, myself and some of the guys from the congregation scaled the cliffs of Buachaille Etive Mhor in Glencoe to unfurl our promo banner.
"We're all keen hill-walkers but the climb of Curved Ridge pushed us out of our usual comfort zones — much closer to serious rock climbing, with huge drops below us and steep cliffs above us and all around.
"Our hearts were in our mouths on several occasions on the way up."
The climb was undertaken by Mr Fair, Michael Marr, Tim Mineard (members of St Andrew's) and Rev Richard Begg who is the military chaplain.
Mr Fair said: "Bear Grylls is the public face of Alpha and obviously he's best known for being an adventurer — less known perhaps for being a committed Christian.
"Alpha began in a London church in the 1980s but has gone on to become the world's leading Christian introduction course.
"Alpha is running in 169 countries, has been translated into 112 languages and has been tried by almost 30 million people.
"Last year, 24,000 tried Alpha in Scotland.
It doesn't tell people what to think but creates space for all kinds of questions and open discussion about what really matters in life.
"It's ideal for people who want to explore the big questions or to find out what the Christian faith is actually about — rather than what is so often thought about it."
Alpha launches at the Townhouse Hotel in Arbroath on Wednesday, October 19 at 7.30pm with coffee and dessert supplied.
The Alpha film series will be shown will questions and answers thereafter with Mr Fair saying there will be no question too 'stupid' and no discussion ruled out.