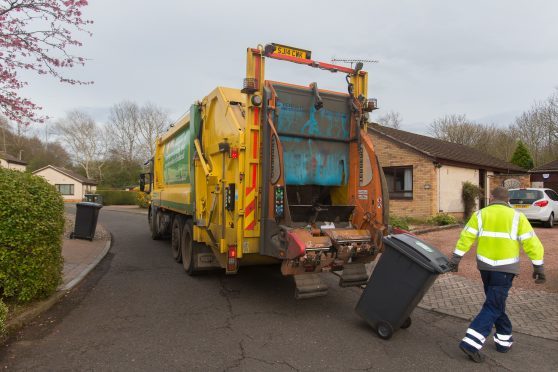 Angus binmen could be facing 10pm collections as the council launches a review of shift patterns.
The local authority refused to rule out late-night working after a source told The Courier an evening shift is being considered.
The cash-strapped council said the proposals are at an "early stage" and no final decision has been made but it is looking to cut costs.
Union bosses say the move could be too complicated, and dangerous, to implement in the area.
Dougie Maguire, Unite regional co-ordinator officer, said: "I think there are many health and safety issues to consider with this. Drivers are essentially being asked to reverse down a road in the dark. Some of these roads aren't suitable for lorries during the day, never mind when it's dark for five months out of the year.
"Also, the roads tend to be clearer in residential areas during the day when cars are away, so in the evening the drivers would find it difficult to navigate some roads. I don't see how it is going to work.
"I don't think the residents of Angus will be happy either, leaving their bins out before leaving for work and then coming home later and finding them still to be emptied.
"We want to work fully with our members and will absolutely support them if it interferes with their work-life balance."
He said other Scottish council areas had introduced similar schemes but there are "more difficulties" in largely rural Angus which is more difficult to traverse in the dark.
An Angus Council spokesperson said: "A review of waste collection shift patterns is being undertaken.
"Staff and trade unions have been advised and will be kept be informed throughout this process. Their participation and feedback is encouraged and the trade unions are also represented on the review group.
"The aim of the review is to identify shift patterns that can achieve the most efficient use of refuse collection vehicles and deliver savings whilst minimising impact on frontline service delivery.
"This review is at an early stage. No formal proposals have been made and no decisions taken. Any proposed changes will be communicated to staff, trade unions, elected members and the public in due course."
Late evening collections began in South Aryshire two years ago, causing a bitter dispute between South Ayrshire Council and Unite, with strike action taking place last year.
The news comes amid an ongoing debate at Angus Council over allowing six-foot trailers into recycling centres at Brechin, Carnoustie, Forfar and Monifieth.