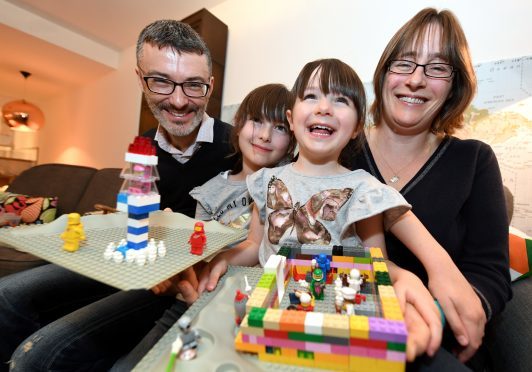 A Mearns girl will wake up on her fifth birthday with her family in a house made entirely of Lego.
The Woollacott family from Johnshaven will travel to Denmark after being selected to stay in the newly-built Lego House in Billund.
Sisters Izzy, 4, and Heather, 7, will jet off with parents Nick and Susan to the 12,000 square metre house which is filled with 25 million bricks.
The whole space is made totally out of Lego bricks, including the teddy bear, lamps, alarm clock, TV, story books, and even the pet cat.
Both girls are huge Lego fans but Izzy is particularly excited as she is celebrating her fifth birthday on Saturday.
"Nothing could be more awesome than waking up on your fifth birthday in the Lego house," said Mr Woollacott.
Izzy and Heather won the once in a lifetime experience from over 24,000 entries by charming the Airbnb and Lego House judges with their "creativity and extraordinary imagination".
To enter the competition, a family had to describe what they would build if they had an infinite supply of Lego bricks.
The Woollacott family said: "Heather wants to be an astronaut and Izzy wants a noodle shop.
"They can't imagine being separated and Izzy is worried her sister will be hungry in outer space.
"With an infinite supply of Lego bricks we would build a life size Squishy Noodle takeaway attached to the International Space Station."
The family will stay over on Friday with Jamie Berard, Design Manager Specialist and "Master Lego Builder" at the LegoGroup as their host.
At the beginning of the day, they will be tasked with building their lunch order out of Lego bricks before it's sent to the kitchen to be made into real food and served by two robot waiters.
The guests will get to get up close with the Tree of Creativity, built by hand from six million bricks, direct their own Lego movie, engineer robotic cars and design Lego cities.
When night falls, the family will bed down in the Lego bedrooms under a six-metre-tall Lego waterfall, surrounded by a pool of bricks.
The Lego home has two bedrooms and a living room, featuring Lego armchairs in front of Lego TV.